Essai sur les labialites tertiaires.
---
Tournier, Auguste-Joseph-Claude, 1855-1919.
Paris : A. Davy, 1888.

Description : tp, [5]-97 p. ; ill.: 7 phot. in-text ; 23.5 cm.

Photographs : 7 tipped-in contact prints, reproductions of drawings.

Subject : Lips — Syphilis.

Notes :


Author caption: Par Auguste Tournier ; Docteur en médecine de la Facultè de Paris. Externe des hôpitaux de Paris.
Medical degree, hôpital militaire du Gros Caillou, Paris.
Doctoral thesis No. 365.
Includes bibliography.
Inscribed: "A mon amis [illegible], souvenir de [l'hôpital] Cochin."
Index Medicus: 11406621210, 20905761120.
---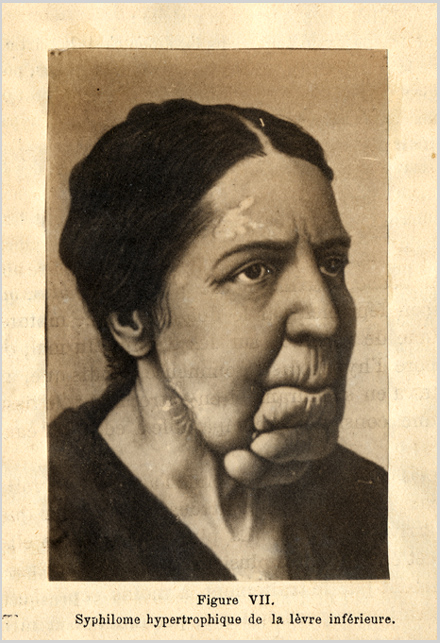 The photographic prints are copies of drawings, notably the image captioned, "Figure VII. Syphilome hypertrophique de la lèvre inférieure," which is a copy of a chromo-lithograph illustrating Goutard's inaugural thesis titled, Du Leontiasis syphilitique; etudes sur quelques cas de syphilides hypertrophiques diffuses de la face en particulier (Paris, 1879. Vide: Raynaud). Figures III and IV reproduce drawings of tissue samples that were also used by Théodore Marin Tuffier (1857-1929) to illustrate his treatise titled, Gommes et scléroses syphilitiques des lèvres. Labialites tertiaires (Paris: Alcan, 1886 ; p. 781, Fig. 1). Tournier devoted his life to military service as a surgeon in the Corps de santé des armées.
---

©All rights reserved.