Le charbon des animaux et de l'homme.
---
Straus, Isidore, 1845-1896.
Paris : Aux Bureaux du Progrès médical ; A. Delahaye et E. Lecrosnier, 1887.

Description : iv, 1-223 p., [2] p., [1 l.] pl. ; ill.: phots., 4 in-text engrs. ; 22.5 cm.

Photographs : phototypes—2 photomicrographs with legends on 1 leaf.

Photographer : Dr. Pierre-Paul-Émile Roux (1853-1933).

Subject : Vascular system — Anthrax.

Notes :


Subtitle: Leçons faites à la Faculté de médecine de Paris.
Title page note: Avec 4 figures et une planche.
Author caption: Par I. Straus, Professeur agrégé, Médecin de l'Hôpital Tenon.
Medical degree, Strasbourg, 1868.
Professor agrégé, Strasbourg, 1869.
Chef de Clinique Medicale, Paris, 1874.
Médecin des hôpitaux, Paris, 1876.
Professor agrégé, Paris, 1878.
Chaire de Médecine Expérimentale, Faculté de Médecine, 1888.
Eponym: Straus reaction–diagnostic test for glanders (GM 5157).
Eponym: Straus' sign–test for peripheral lesion in facial paralysis.
Bookplate of [Harold Clarence] Ernst (1856-1922).
Photo caption: Fig. I.—1/100 de mm =2,mm30.
Photo caption: Fig. II.—1/100 de mm =3,mm40.
Index Medicus: 11308141190.
---
EXPLICATION DE LA PLANCHE
Photographies du Dr. Roux
(reproduites en phototypie)
Fig.II, — Sang d'un Cobaye mort du charbon. Les bacilles étaient colorés au bleu de méthylène, les globules du sang par l'éosine. Obj. 16,6 de Vérick. Le grossissement mesuré sur la photographie du micromètre est de 340 diamètres.
Fig. I . — Mésentère d'un cobaye mort du charbon, les bacilles étaient colorés au violet de gentiane, le tissu à l'éosine. Obj. apochromatique 3,0 — 1,30 de Zeiss. Le grossissement mesuré sur la photographie du micromètre est de 230 diamètres.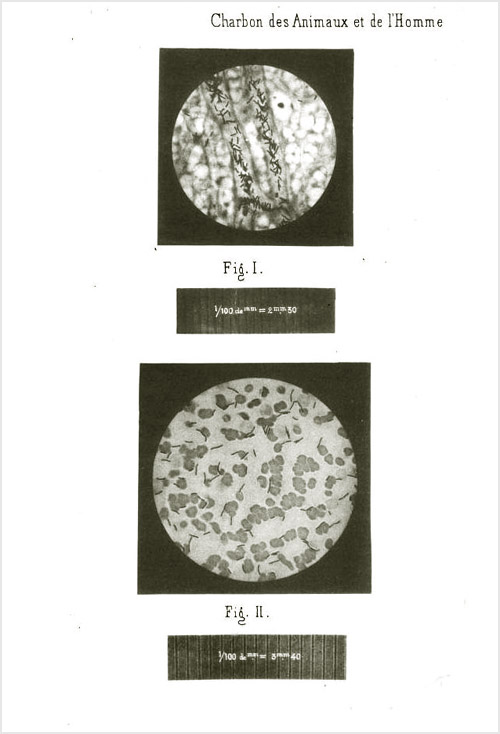 Includes a chapter on materno-fetal transmission, an area of expertise for Straus. His first research into congenital infections, including the anthracic fetus, was conducted at Pasteur's laboratory in collaboration with Pasteur's assistant, Charles Chamberland (1851-1908). They published three papers, the first two in Comptes rendus de la Société de Biologie (1882, 7. s., iv, 683-688 ; 804-810) and the third in Archives de physiologie normale et pathologique (1883, 3. s., i, 436-475). Chamberland and Roux—who provided the photomicrographs for this book—were both indispensible to Pasteur, responsible for developing the anthrax vaccine that powered a remarkable demonstration on May 5, 1881 in Pouilly-le-Fort. The success of the vaccination experiment was irrefutable and won popular support for Pasteur and his work. Roux also provided the method whereby Pasteur could demonstrate innoculation of rabies in canines. In 1883, Pasteur appointed Straus to lead a team of bacteriologists to study the cholera epidemic in Egypt, but that project was fatigued by the loss of a team member to the disease and by the scientific successes of Koch and his team.
---

©All rights reserved.