Traité pratique des maladies dites vénériennes.
---
Solari, Léon Joseph Marius.
Paris : Adrien Delahaye, 1867.

Description : bt, tp, [iii]-xii p., [13]-310 p. (inc. 12 pl.) ; ill.: 1 lith., 10 phot., 1 engr., tbls. ; 19.5 cm.

Photographs : mounted albumens, reproducing drawings by Henry Durbec.

Photographer : Barthélémy.

Subject : Genitalia — Venereal diseases.

Notes :


Author caption: par L.-J.-M. Solari, Docteur en Médecine de la Faculté de Paris, Ancien Interne des Hôpitaux de Marseille, Médecin du service des mœurs de la même ville.
2nd edition published in 1868.
Title text: Avec des planches et figures chromo-lithographiques et photographiques.
Title text: Dessinées et photographiées par Henri Durbec et Barthélémy.
Photo captions: Pl. II-[XI], Henry Durbec, del. ; Henry et Barthélémy, phot.
Index Medicus: 11303131230, 11506391160.
---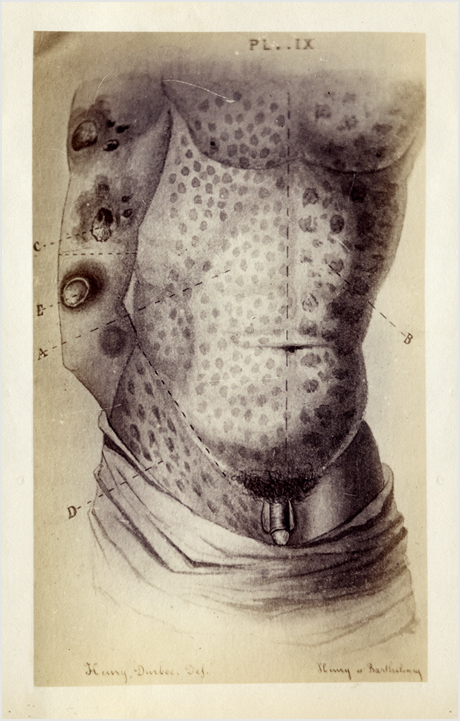 The ten photographs illustrating Solari's work of popular medicine are all reproductions of water color drawings by Henry Durbec. Durbec's drawings were rendered as chromolithographs for the larger trade edition (vide: Solari, 1868 »»). Given the scarcity of the book – I know of only one copy sold by Librairie Chamonal in the 1960's – the photographic edition was probably a very limited, preproduction run.
---

©All rights reserved.