De la cachexie pachydermique (myxoedème des auteurs anglais).
---
Ridel-Saillard, Georges 1853-.
Paris : Aux bureaux du Progrès médical, 1881.

Description : bt, tp, 1-72 p., [6] p., [1 l.] pl. ; ill.: 2 phot. ; 23 cm.

Photographs : 2 photographs on 1 leaf, each a clinical subject posed seated and nude.

Photographer : Louis Loreau.

Subject : Skin — Myxoedema.
Notes :

Author caption: Par Le Dr. Georges-Albert Ridel-Saillard.
Doctoral thesis: Dissertation No. 218.
Includes a bibliography and review of the literature.
Index Medicus: 11202131320, 10906071070.
---
Nous remercions M. Loreau, modeleur du Musée anatomo-pathologique des hospices de la Salpêtrière et de Bicêtre, à l'obligeance duquel nous devons les clichés des épreuves ci-jointes.—Legend.
• • •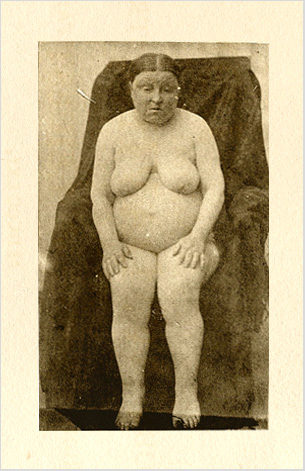 In 1878, Charcot was awarded the funds to install a casting workshop and professional photography lab at the Musée Anatomo-pathologique of Salpêtrière. Bourneville and Regnard ran the photographic service, and Loreau was the designated model maker and préparateur. Loreau assumed the responsibilities of the photographic service after its first directors left to pursue their medical careers. He remained until 1884 when he was succeeded by Albert Londe.
---

©All rights reserved.