Note sur la maladie des bœufs de la Guadeloupe connue sous le nom de farcin.
---
Nocard, Edmond-Isidore-Étienne, 1850–1903.
Journal : Annales de l'Institut Pasteur ; vol. 2.

Paris : G. Masson, 1888.

Description : 293–302 p., [2 l.] pl. ; ill.: 6 phot. figs., 1 drwg. ; 25 cm.

Photographs : 7 heliotypes on printed leaves ; 2 photomicrographs, 1 drawing (Pl. VII) & 4 images of cultures (Pl. VIII).

Photographers : Félix-Justinien Méheux (cultures) & Pierre-Paul-Émile Roux (photomicrographs).

Subject : Repiratory tract & skin — Nocardia asteroides ; nocardiosis.

Notes :

Author caption: Par M. E. Nocard.
Medical training, École Vétérinaire de Maisons-Alfort, 1868-1873.
Head of clinical service, École Vétérinaire de Maisons-Alfort, 1873.
Founder, editor, Archives Vétérinaires, 1876.
Professor, Clinical and surgical veterinary, École Veterinaire, 1878.
Assistant, Louis Pasteur laboratory, 1880.
Director, Alfort veterinary school.
Elected to the editorial board, Annales de l'Institut Pasteur, 1888.
Full professor, Pasteur Institute, 1895.
GM-5512.1: discovery, Nocardia genus, 1888.
GM-3182: isolated (with Roux), Mycoplasma mycoides in bovine pleuropneumonia, 1898.
Photo caption: Pl. VII; Fig. 1[-3].
Photo caption: Pl. VIII; Fig. 4[-7].
Printer caption: Heliotypie, A. Quinsac & G. Baquié.
Index Medicus: 20302521510.
---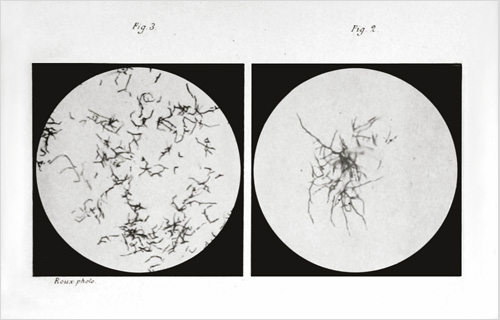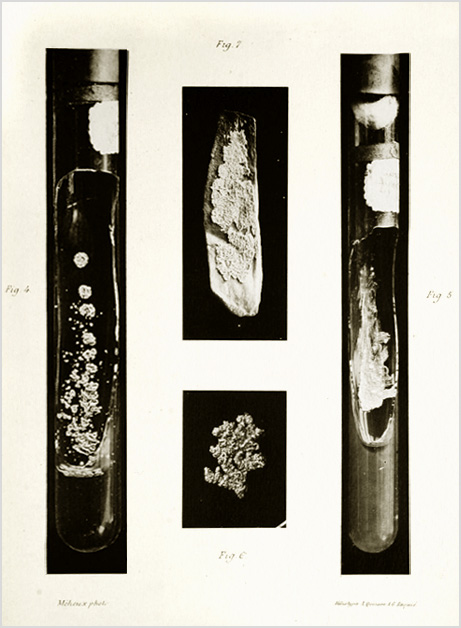 Nocard's discovery of the aerobic actinobacterium that bears his name. Over a period of two years, he worked with tissue samples that were sent by Couzin, an otherwise obscure surgeon veterinarian who was stationed in the french colony of Guadeloupe. The drawing of a diseased glandulous ox, reproduced by heliotype in Plate VII, is also attributed to Couzin. Most veterinarians believed that bovine farcy was related to tuberculosis, but finding no Koch bacillus after extensive tests, Nocard concentrated on lymph pus. He successfully exposed the microorganism with an early version of the Gram-Weigert method, first counterstaining with alcohol and then discoloring with aniline oil.
---

©All rights reserved.