Étude sur la résection appliquée à la tumeur blanche du coude.
---
Lucas-Fontaine, Pierre-Henri-Marie, ca1850-.
Paris : A. Parent, 1877.

Description : [1]-48 p. [1 l.] pl. ; ill.: 5 phot. ; 23 cm.

Photographs : folding leaf with 5 mounted albumens.

Subject : Elbow — White tumors ; excisions.

Notes :

Author caption: Par Henry Lucas-Fontaine, Docteur en Médecine de l'Faculté de Paris.
Medical degree, Paris, 1877.
Doctoral dissertation, no. 244.
Officer, French medical corps: Service de Santé de l'Armée de Terre.
Includes history and bibliography of the subject.
Inscribed by the author.
Photo captions: 1[-5].
Index Medicus: 10404091430, 10803721330.
---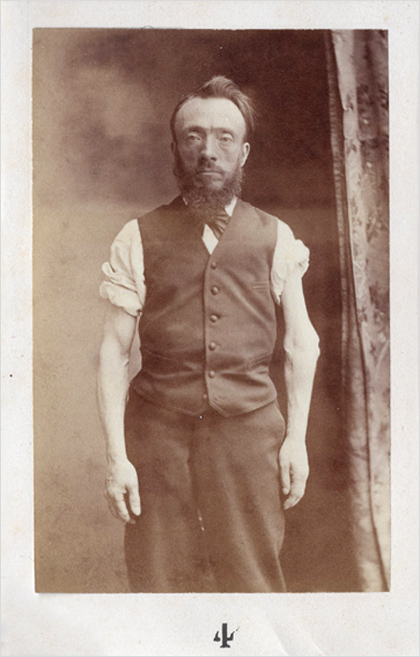 The photographs promote the benefits of conservative surgery when treating a suppurating tumor of the elbow. In the words of the author, "L'authenticité de nos observations est assurée par l'addition de quelques photographies." The two male subjects, ages 27 and 40, are shown in various poses to demonstrate the functionality of their arms – flexing the elbow, making a fist, or in one photograph, lifting a chair.
---

©All rights reserved.