Dépression du crâne survenue pendant la seconde enfance, et suivie d'arrêt de développement des facultés psychiques.
---
Guermonprez, Francois-Jules-Octave, 1849-1932.
Journal : Archives générales de médecine ; vol. x.

Paris : Asselin et Cie, 1882.

Description : 157-182 p., [1 l.] pl. ; ill.: 2 phot., 1 engr. ; 23 cm.

Photographs : 2 heliogravures on 1 leaf portraying the subject's head turned left and right.

Subject : Cranium — Abnormities.

Notes :


Author caption: Par le Dr. Fr. Guermonprez, de Fives-Lille.
Pre-med, l'Ecole Préparatoire de Pharmacie de Lille, 1868-1870.
Medical studies, Lille, 1870-1872.
Interned, Hôpital Saint-Sauveur, Lille, 1872-75.
Physician, Compagnie des chemins de fer du Nord, 1877.
Professor materia medica, Faculté Catholique de Lille, 1885.
Founding member, Société des Sciences médicales de Lille.
Appointed director, l'Institut orthopédique Crud, Sens, 1896.
Offprint issued (Paris, J.-B. Baillière et fils, 1882).
Index Medicus: 20310041220.
---
Sur le côté gauche de la région frontale se voit une dépression extrêmement marquée. L'héliogravure n'en peut traduire qu'une idée très imparfaite; on remarque toutefois assez aisément le contrast que forme la bosse frontale normalement saillante à droite et la dépression du côté gauche du front, dépression que fait ressortir l'exagération de l'arcade sourcilière.
Ainsi qu'on l'a vu plus haut, cette déformation, quelque manifeste qu'elle soit, n'est pas suffisamment rendue par l'héliogravure.—Page 158-159.
• • •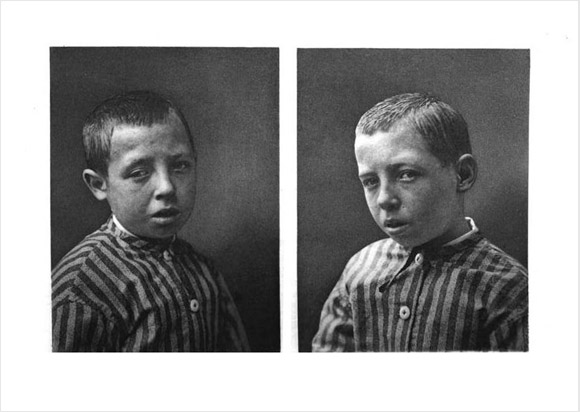 Three-quarter views were shot of Dr. Guermonprez's patient, a 12 year-old boy who suffered an accidental skull fracture in infancy. In the first photograph he is posed to show the deformed left wall of his head. The second photograph represents the uninjured right side. The paper is a study on disturbances to brain function caused by traumatic injuries and Guermonprez reviews the literature on cases of Bouchaud, Fabrice de Hilden, Trousseau, Gongreve, Selwyn, Broca, Morgagni, Morrin, Pitres, Ferrier, Davidson, etc., and Harwell's case of Phineas Gage (v. intra). Guermonprez concludes that depression to the left frontal region is the most damaging to brain growth and cognitive function, especially in older children where it becomes symptomatic of microcephaly.
---

©All rights reserved.