Notice sur le docteur Joseph Gensoul.
---
[Corporate] Gensoul, Joseph, 1797–1858.
Lyon : Louis Perrin, 1859.

Description : [1]-64 p., [3 l.] pl. ; ill.: 2 litho., 2 phot. figs. ; 24.2 cm.

Photograph : salt paper portrait of Gensoul mounted on printed leaf, frontis.

Photographer : Camille Dolard (Dolard jeune), 1810-1884.

Subject : Medical biography — Joseph Gensoul (1797–1858).

Notes :

Author caption: ..Ex chirurgien en chef de l'Hôtel Dieu de Lyon, Chevalier de la Légion d'Honneur, Lauréat de l'Institut, Membre de plusieurs Sociétés savantes Françaises et étrangères.
Interned, Hôtel-Dieu, Lyon, 1815.
Nominated for chief surgeon, Hôtel-Dieu, Lyon, 1822.
Doctorate in anatomy and surgery, Paris, 1824.
Chief surgeon, Hôtel-Dieu, Lyon, 1826-32.
First surgeon to resection the maxilla, 1827.
Cofounder, editor, Journal clinique des Hôpitaux de Lyon, 1830.
Legion of Honor, 1838.
Director, Hospice de vieillards de la Guillotière, 1839.
Corporate authors: Pérouse, Diday, Bonnet, Pétrequin, Desgranges, Debout, Caffe, Martin-Lauzer.
Edited by François-Ariste Potton (1810-1869)?
Photo caption: Joseph Gensoul. Né à Lyon le 8 janvier 1797..etc.
Rare, no copies listed in OCLC.
Index Medicus: na.
---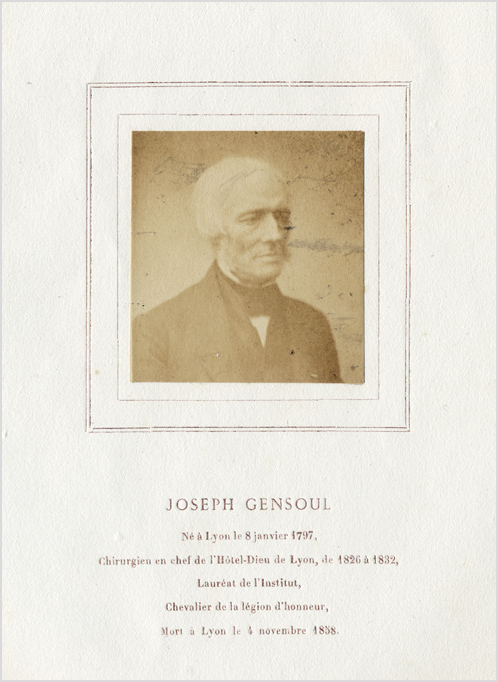 ---

©All rights reserved.