Cryptophtalmos.
---
Van Duyse, Daniel, 1852-1924.
Bruxelles : Bureau du Journal, 1889.

Journal : Annales d'oculistique ; vol. ci.

Description : [1 l.] pl., [69]–91 ; ill.: 1 phot. ; 8°.

Photograph : phototypie (collotype) on printed leaf, clinical portrait.

Photographer : Daniel Van Duyse.

Subject : Eye — Congenital abnormities ; cryptophthalmos.

Notes :

Author caption: par le Dr. Van Duyse, agrégé spécial à l'Université de Gand.
Medical degree, Université de Gand, 1876.
Co-founder, Société Belge d'Ophtalmologie, 1886.
Professor, Pathological Anatomy, Université de Gand, 1891.
Professor, Ophthalmology, Université de Gand, 1899.
Chair of Ophthalmology, Université de Gand, 1905.
Includes excellent bibliography on cryptophthalmos.
Photo caption: W. Otto.
Index Medicus: 20502521090.
---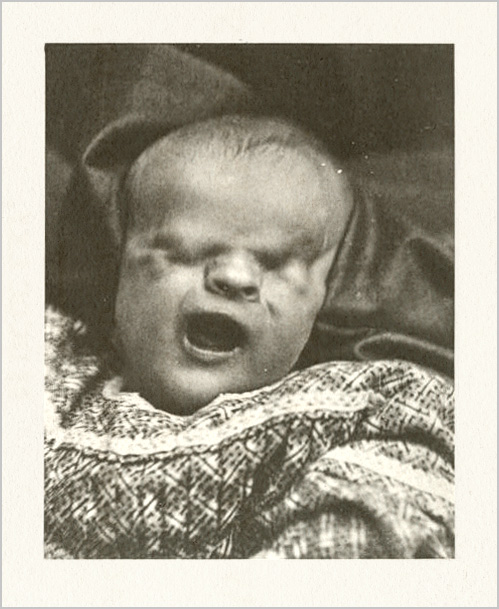 Van Duyse contributed many original studies on developmental malformations of the eye, particularly the comparative morphology of the teratic eye. He was the lead writer on this subject for the second volume, Encyclopédie française d'ophtalmologie (1903-1910). Duyse, himself, probably took the photograph, and W. Otto, who had photography establishments in Brussels and Dusseldorf, printed the collotype reproductions.
---

©All rights reserved.