Des fractures du crâne.
---
Cauvy d'Agde, F., d. 1887.
Montpellier : C. Coulet ;
Paris : Adrien Delahaye, 1868.

Description : xv, 204 p., [3 fold. l.] pl. ; ill.: 5 phot., 4 lith. ; 22.5 cm.

Photographs : 5 albumens of cranial specimens.

Photographer : Laignelot.

Subject : Cranium — Fractures.

Notes :


Medical degree, Montpellier, 1868.
Chirurgien chef interne des hôpitaux de Montpellier.
Médecin des hôpitaux de Béziers.
Dissertation No. 49—first recipient of the Dr. Fontaine (de Nimes) prize.
Inscribed in negative: Laignelot photg. Montpellier.
Index Medicus: 10207941020, 10207941030, 10508921220, 10508921230.
---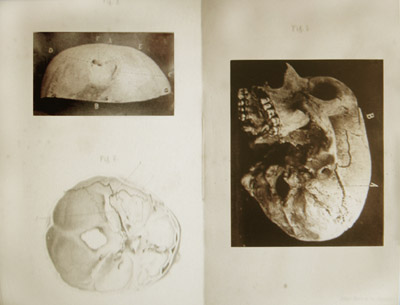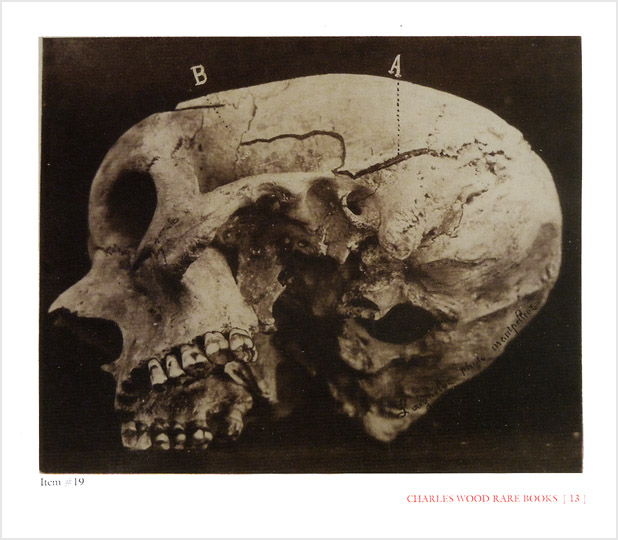 Reproduced by permission from Charles Wood's catalog of rare books titled, Catalog #146. Nineteenth Century Photography (2011).
Cauvy's prize winning dissertation fulfilled his requirements for a medical degree from Hôpitaux de Montpellier and is remarkable for its 5 rich and masterful photographs of cranial specimens by the photographer Laignelot, also of Montpellier. The names of both author and photographer are now obscure, Cauvy was probably in his early 40's when he died from rabies contracted by a bite from his pet dog. As a doctor, he was aware of the threat to his life and he quickly repaired to the Pasteur laboratory in Paris for treatments, but the antirabies serum he received there was ineffective. His death was then scandalized by the claims of the "innoculation fanatics" (les fanatiques du pasteurianisme) that he actually died from cerebral hemorrhage.
---

©All rights reserved.