Aperçu clinique sur les eaux d'Aix et de Marlioz, Savoie et sur leurs adjuvants. Eau de Challes; eau de Saint-Simon; cures de petit-lait; applications des courants continus.
---
Brachet, Léon, 1840-1898.
Paris : Librairie J.B. Baillière et fils, 1875.

Description : frontis., [i]-vi p., [1]-162 ; ill.: 2 phot., tbls. ; 22.8 cm.

Photographs : two albumen photographs mounted on plain, decorative boards.

Subject : Body — Mineral waters ; Aix-les-Bains.

Notes :


Author caption: Par Le Dr. L. Brachet, Médecin aux bains d'Aix et de Marlioz, Médecin adjt. de l'Hospice thermal, Médecin de la Compagnie P. L. M., Médecin de la Société des Artistes et Inventeurs de Paris, Membre de la Société de médecine et de chirurgie pratiques de Montpellier, Membre des Sociétés médicales de Chambêry et de Genève, Membre de la Société savoisienne d'histoire et d'archéologie, etc., etc.
Medical degree, Montpellier, 1864.
Limited number issued with the photographs.
English translation, "Aix-les-Bains, in Savoy, the medical treatment and general indications." Henry Renshaw: London, 1884.
Revised second English edition, 1891.
Inscribed: M. Le Professeur Gaucher, humilité hommage de un ancien lauréat de la faculté de Turin. L. Brachet.
Index Medicus: 20206381170, 20206381180.
---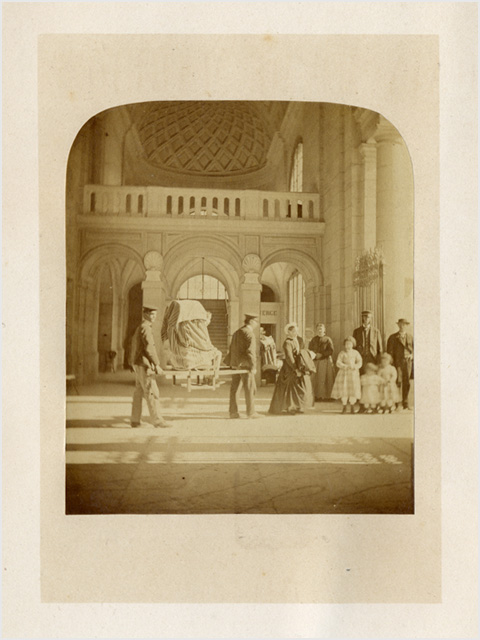 The frontispiece photograph is a wonderful study of two porters transporting a male patient in a tented sedan chair (chaise à porteur). The invalid has just completed a session in the thermal baths where doucheurs gave his body a thorough purging with mineral water and he now returns to his room and a warm bed. A nurse leads the procession, carrying the flannel swaddling (maillot) used for induced sweating.
There is one other photograph in my copy, a view of the Grésy falls (Cascade de Grésy) in Aix-les-Bains, but there are bibliographical references to variant copies with additional views of the town, the baths, and the Arch of Campanus – bibliographical references, also, to copies with no photographs at all (v. »»). Numerous case histories are provided, covering every disorder imaginable which is typical for promotional literature of miracle cure waters. Doctor Léon Brachet was born into provincial wealth and privilege, the son of the property baron, Pierre-François Brachet, who served as mayor of Aix-Les-Bains from 1860 until 1861, the year of his death.
---

©All rights reserved.