On the transplantation of skin en masse in the treatment of ectropion and other deformities of the eyelids.
---
Taylor, Charles Bell, 1829-1909.
Journal : Practitioner ; vol. xxix.

London : Macmillan and Co., 1882.

Description : 428-431 p., [2 l.] pl. ; ill.: 2 phot. ; 22 cm.

Photographs : portraits before and after surgery.

Subject : Eyelids — Plastic surgery.

Notes :


Author caption: By Charles Bell Taylor, M.D., F.R.C.S.E. ; Surgeon to the Nottingham and Midland Eye Infirmary.
Medical training at Edinburgh and Paris.
Medical degree, Edinburgh, 1854.
F.R.C.S., Edinburgh, 1867.
Surgeon, Nottingham and Midland Eye Infirmary, 1859-1909.
First printing in the British Medical Journal, vol. ii; p. 672.
Offprint with photographs also distributed.
Photo caption: Skin grafting.–Dr. Bell Taylor. No.1.–Before operation.
Photo caption: Skin grafting.–Dr. Bell Taylor. No.2.–After transplantation of skin.
Offprint also distributed.
Index Medicus: 10405571410 (Brit. M. J.).
---
I may here remark that in establishing an artificial ankyloblepharon in order to treat ectropion, transplant tissue, or for any other purpose, it is most important to maintain the eyelashes intact, and, in order to do so, to make the raw surfaces well within the edges of the eyelids, and to maintain apposition by sutures deeply placed. An examination of the second photograph shows that this end has been fully attained in the case in question.—Page 430.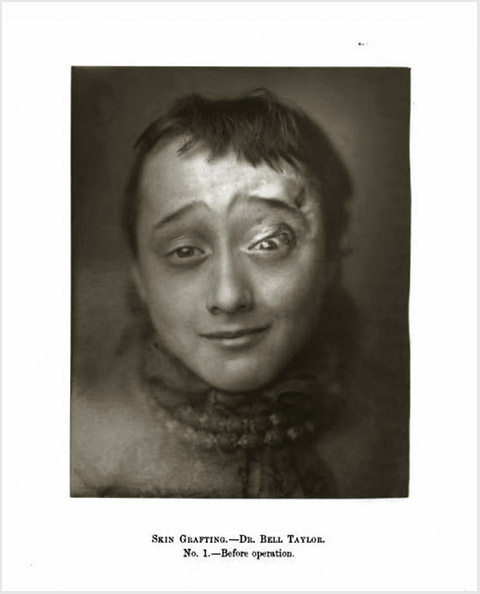 Before and after photographs of plastic operation for ectropion, accomplished by establishing an artificial anchlyloblepharon and then dissecting out the diseased tissue. The wound was repaired with a patch of skin transplanted from the child's inner arm. Taylor does not identify the disease that caused the ectropion, but hereditary syphilis is a good guess supported by the exfoliation of fronto-orbital bone that can be seen in the first photograph. Taylor specialized in cataract surgery. He was a passionate antivivisectionist and willed his fortune to his cause.
---

©All rights reserved.