Memoir of John Milne, M.D., late President of the Medical Board, Bombay ;
founder of the medical bursary at Aberdeen University ; and of the "Milne Bequest" to the parochial schools of Aberdeenshire.
---
Smith, John, 1797-1884.
Aberdeen : A. Brown & Co., 1871.

Description : [1 l.] pl., [i]-viii p., [1]-134 p. ; ill.: 1 phot. ; 8vo.

Photographs : photograph mounted to printed leaf, frontis.

Subject : Medical biographies — John Milne, (1775-1841).

Notes :


Author caption: By John Smith, A.M., advocate in Aberdeenshire.
Masters degree, Aberdeen University, 1813.
President, Aberdeen Society of Advocates, 1859, 1881.
Photo caption: facs. signature.
Named: John Moir, 1775-1857.
Index Medicus: na.
---
It was during the above-mentioned visit to his native place, that Dr. Milne got his portrait painted by Mr. John Moir, the brother of Dr. James Moir, who was long one of the principal physicians in Aberdeen. It is a very creditable work of art, and gives a faithful resemblance of Dr. Milne in the prime of life, being then about thirty-five years of age. A photograph of it is prefixed to this Memoir.—Page 34.
• • •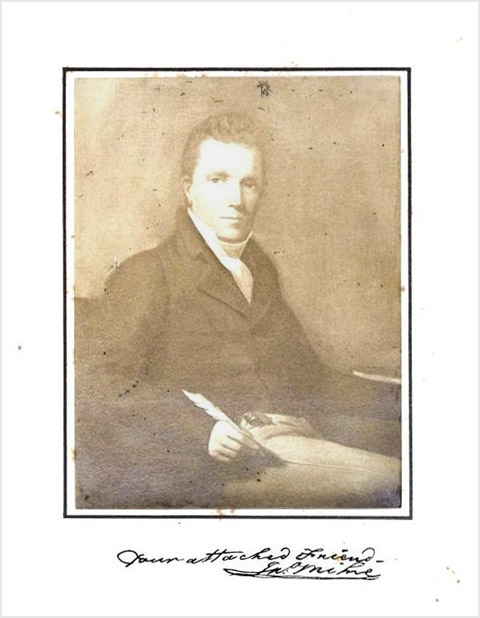 The photograph reproduces John Moir's portrait of Dr. Milne at age thirty-five. Milne was the sole child of a farmer, educated at King's college in Aberdeen where he won a scholarship that paid for two years of medical training – not enough to fulfill the requirements of a degree, but sufficient to be hired as a seventeen year old surgeon to a Greenland whaling vessel. Milne spent eight years at sea and amassed a fortune through his position as a surgeon for the East India Co. The lucrative contracts of ship surgeons included free tonnage that either could be leased to a merchant or used for their own import and export business outside the statutes of a trading company. In 1799, the East India Co. stationed Milne at Bussorah (Basra) and four years later at Bombay where he became an important agent for British colonial interests. He was indispensable to many modernization and engineering projects in India and a close confidant of the Rajah of Sattara, but he never ceased practicing medicine and became president of the Bombay Medical Board. Milne was awarded a medical degree from King's college in 1803, probably in recognition for establishing the first Medical Bursary at the college with an endowment of 600 pounds. The Milne Medical Bursary was determined by competition and paid for the three year apprenticeship fees and "infirmary ticket" of impecunious students. He was also a munificent patron of the Aberdeen Medical Society and left a considerable fortune to the parish schools of the district, known as the "Milne Bequest."
---

©All rights reserved.