On a case of periosteal excision of the head and part of the shaft of the humerus.
---
Maclaren, Roderick, 1844-1913.
Carlisle : C. Thurnam & Sons, 1873.

Description : [1]-7 p. [1 l.] pl. ; ill.: 1 phot. ; 21.2 cm.

Photographs : albumen mounted on leaf.

Photographer : attrib. to Frederick William Bannister (1827–1885).

Subject : Humerus — Subperiosteal excision.

Notes :

Author caption: by Roderick Maclaren, M.D., Surgeon to the Carlisle Dispensary.
Medical degree: University of Edinburgh, 1865.
Resident house surgeon, Carlisle Dispensary, 1865.
Surgeon, Carlisle Dispensary, 1869.
Medical officer, Fever Hospital, 1869.
Surgeon,Cumberland Infirmary, 1874.
Senior surgeon, Cumberland Infirmary, 1877-1903.
President, Border Counties Branch, British Medical Association, 1879.
Read before a Meeting of the Cumberland and Westmorland Branch of the British Medical Association at Workington, November 1, 1872.
Offprint from: (London) Lancet ; vol. 1 of 1873, p. 800-801 »»
Journal title: Subperiosteal head and part of shaft of humerus.
Journal edition illustrated with drawing of the photo.
Inscribed: "With Dr. Maclaren's compliments."
Provenance: ascribed by Antiquates Ltd. to Henry Lonsdale M.D. (1816-76).
Index Medicus: 10804881210 ; 10404241970 (journal).
---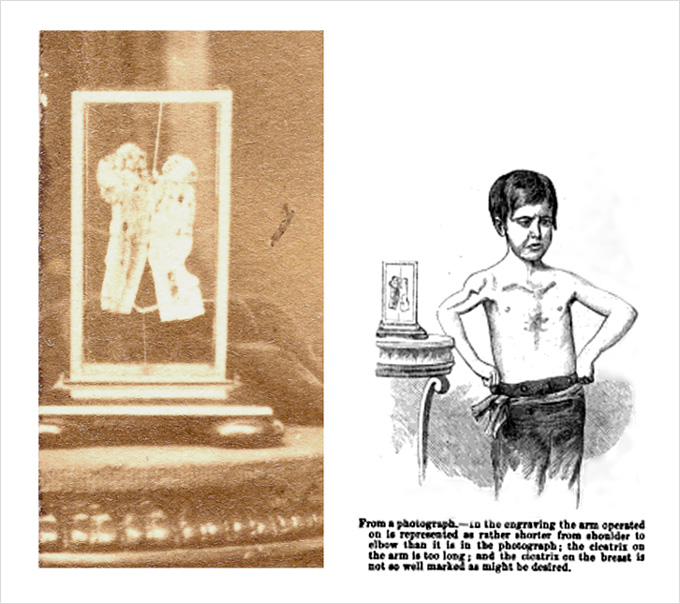 Right image source: Google books (September 6, 2020: »»)
A sketch of the photograph, exaggerating the proportions of limb length and wound, illustrates Maclaren's paper in the Lancet. He referred to this case and showed the photograph, or one pertaining, during his inaugural address as president of the North Border Counties Branch, British Medical Association, delivered July 25th, 1879, an association which he helped found (1880 Lancet, vol. 1, p. 200: »»). The six year-old boy is posed next to a table on which is placed the 3-1/2 inch section of his humerus, wire mounted inside an open frame. The bone is slightly bowed and notched by a year-old fracture.
---

©All rights reserved.