On amputation through the knee joint.
---
MacCormac, Sir William, 1836-1901.
Journal : Dublin quarterly journal of medical science ; vol. xlix.

Dublin : Fannin and company, 1870.

Description : [1 l.] pl., 273-292 p.; ; ill.: 1 phot. ; 22 cm.

Photographs : 1 albumen mounted to printed leaf.

Subject : Lower leg — Amputation.

Notes :


Author caption: By William Mac Cormac, M.A., M.R.I.A. ; Fellow of the Royal College of Surgeons of Ireland; Member of the Senate of the Queen's University; and Surgeon to the General Hospital, Belfast.
Admitted M.D., Queen's University, 1855
Member, M.R.C.S. England, 1857.
Member, F.R.C.S. Ireland, 1864.
Lecturer on clinical surgery, consulting surgeon to the Royal Hospital, Belfast 1864-1870.
Volunteer, hospital corps, Franco German War, 1870.
Member, Royal College of Surgeons, 1871.
Assistant surgeon, St. Thomas's Hospital, 1871.
Full surgeon, St. Thomas's Hospital, 1873.
lecturer on surgery, St. Thomas's Hospital, 1873-93.
Medical degree, Queens College, Ireland, 1879.
Chief surgeon, National Aid Society for the Sick and Wounded, Turco Servian campaign 1876.
Honorary general secretary, International Medical Congress in London, 1881.
Knighted, 1881.
President, Royal College of Surgeons, 1896.
Baron & Surgeon in ordinary to the Prince of Wales, 1897.
Offprint also circulated.
Offprint printed for the author, by John Falconer.
Photo caption: Dr. William Mac Cormac. Amputation through the knee joint.
Index Medicus: 10102651430, 21000101190.
---
With the exception that it is placed just a little too low down, the line traced on the cast in the photograph represents the direction of my incisions. This cast was taken before the limb was removed, and gives a good idea of the form and size of the tumor. I thought it would lend further interest to the picture if it were photographed at the same time as the patient upon whom the operation for its removal had been executed.—Page 282.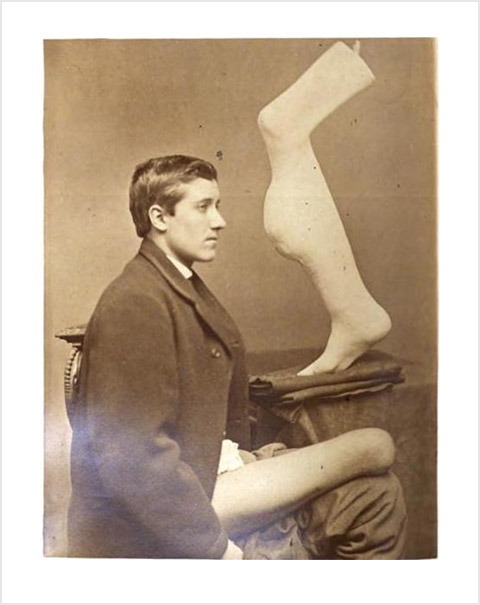 The bibliographical content that MacCormac provides is richly anecdotal. The photograph is a sensitive portrait of the seventeen year old patient seated next to a plaster cast of his amputated leg with a pronounced medullary cancer and was taken four months after the operation.
---

©All rights reserved.