Memoirs of eminent men of Leeds.
---
A Leeds Man.
London : G. J. Berger ;
Leeds : D. Green & Sons, 1868.

Description : frontis., [i-iv] p., [1]-90 p. ; ill.: 1 phot., 2 engrs. ; 18.7cm.

Photograph : frontis., mounted albumen, a composite of 16 cameo portraits with ornamental surrounds.

Subject : Medical biography — William Hey (1736-1819) ; Thomas Pridgin Teale (1801-1868) ; Samuel Smith (1800-1867)

Notes :


Author caption: By a Leeds man.
Author name ref., C. S. Spence.
Title page note: With sixteen photographic portraits, and views of the old and new infirmary.
Eponym: Hey's saw (GM-5582).
Eponym: Hey's amputation of the foot.
Eponym: Hey's ligament, falciform ligament of the saphenous opening.
Eponym: Hey's internal derangement.
Eponym: Teale's amputation (GM-4467).
Bookplate of James Digby Firth (1877- ).
Index Medicus: na.
---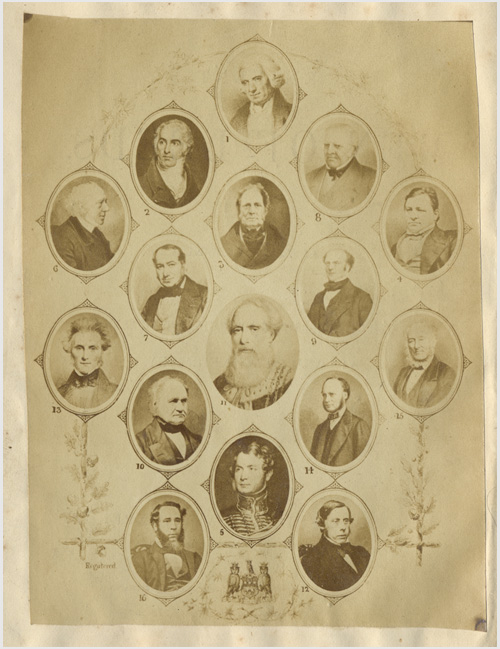 Of the sixteen numbered cameo photographs, the supernal position is occupied by Dr. William Hey, originator and cofounder of the Leeds General Infirmary. His portrait is excerpted from a painting by Sir William Allen (b. 1782), commissioned in 1815 and titled, "William Hey (1736-1819), seated with Lady Harewood and child" (vide: Hey). Lady Harewood was the wife of the first Lord Harewood (Edwin Lascelles) who, as benefactor of the Leeds Infirmary, had the honor of laying its foundation stone in 1768. In his painting of Hey, Allen exagerates the effect of the doctor's dead right eye which was pierced by a pen-knife when he was a four year-old boy and straining to cut a piece of string. Both the beatific Lady Harewood and the horrified child stare into Hey's dead right eye, a visual trope for cold scientific detachment. His powerful left eye, however, penetrates the viewer like a bolt from judgment day.
Short biographies and photographic portraits of two other medical men are provided. Cameo number 14 represents the surgeon Thomas Pridgin Teale, Sr., who is remembered for his treatise on hernia (GM-3589). Cameo 15 represents the surgeon Samuel Smith who was a specialist in lithotomy and active in the factory reform movement, led by Michael Thomas Sadler (cameo number 2). The author was successful in hiding his identity, but there exist a few bibliographical references pointing to the name, C. S. Spence, a manager of the Leeds Christian Institute Local Board. This book was published to celebrate the opening of the new Leeds General Infirmary on May 19th, 1868.
---

©All rights reserved.