Lectures on syphilitic osteitis and periostitis.
---
Hamilton, John, 1809-1875.
London : J. & J. Churchill, 1874.

Description : [4 l.] p., [1]-108 p., [12 l.] pl., [1]-108 p. ; ill.: 8 phot., 2 lith., 2 chrom., in-text engrs. ; 22.3 cm.

Photographs : collotypes on printed leaves.

Photographers : varia.

Subject : Bone — Osteitis, periostitis ; syphilis.

Notes :


Author caption: By John Hamilton, Surgeon to the Richmond Hospital, and to Swift's Hospital for Lunatics, Late President of the Pathological Society of Dublin.
Fellow, Royal College of Surgeons in Ireland, 1844.
Visiting surgeon, Richmond Hospital, 1844-1875.
Appointed, Surgeon-in-Ordinary in Ireland, 1875.
Includes errata slip.
Index Medicus: 10202431620, 10508091370.
---
Where the ulcer has been deeper round the circumference, the destruction is in a circular or ringlike form, and hence the peculiar appearance of some of the skulls in our museums. There was a very good and characteristic specimen in Parkstreet Museum, now belonging to the Belfast College; and through the kindness of Dr. Cuming, who got photographs taken for me, I am enabled to exhibit them.—Page 67.
• • •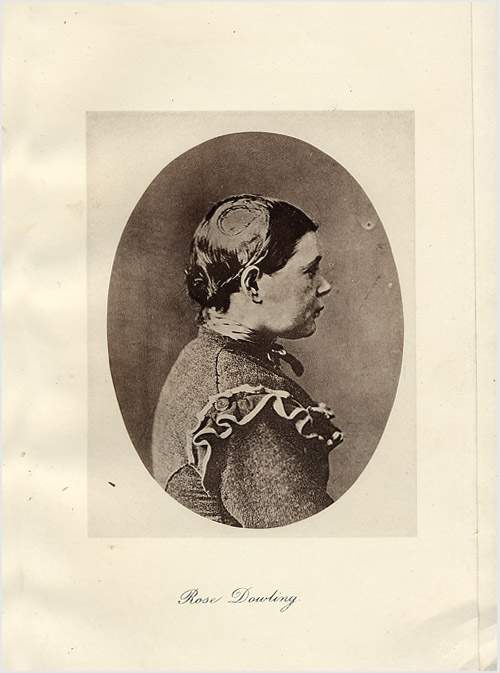 The monograph is divided into seven lectures including one titled, The yellow tubercle, Hamilton's muddling term for the gumma of tertiary stage syphilis. Except for one clinical portrait, the photographic plates represent specimens of diseased bone.
---

©All rights reserved.