Case of prolonged maintenance of a fixed position (with photograph).
---
Geoghegan, Edward George, 1853-1881.
Journal : Journal of mental science ; vol. xxvii.

London : J. and A. Churchill, 1881.

Description : 51-53 p., [1 l.] pl. ; ill.: 1 phot. ; 21 cm.

Photographs : woodburytype mounted on leaf, cardstock.

Subject : Brain — Functional disorders.

Notes :


Author caption: By Edward G. Geoghegan, M.D., Asst. Med. Officer, Borough Asylum, Portsmouth.
Medical degree, Dublin (?).
Supplement published posthumously in the Journal (vol. 27, 1887 ; p. 73-74).
Title: Supplementary Note on a Case of Mental Stupor.
Index Medicus: 10609911040, 20800951540.
---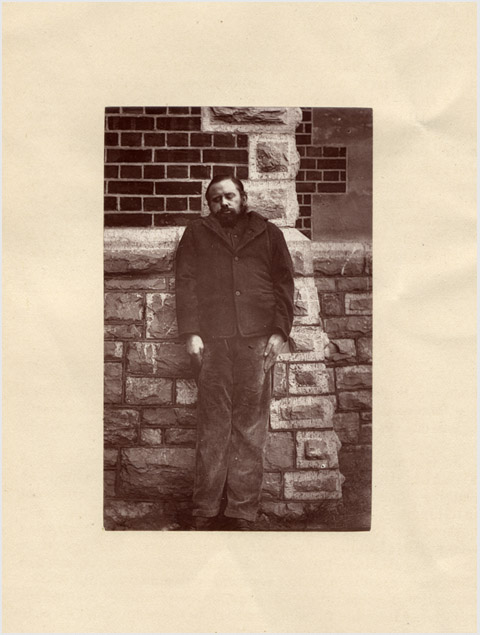 Extraordinary case of catalepsy lasting 21 months. The patient was wheeled outside where his picture was taken, standing in a caryatid trance against the rusticated stone and brick wall of the asylum. He subsisted on liquified sop nursed into his mouth with a spoon and every third day the attendants would slant his rigid body over the toilet for a bowel movement. Powerful secret springs resisted any attempts to move his limbs and his entire body could be lifted with a sling under the occiput.
Aside from a few brief obituaries, there is little trace left of the life of Geoghegan who died at age 28, soon after he published this paper. His father was Dr. Thomas Grace Geoghegan (1807-1869), a noted toxicologist and professor of medical jurisprudence at Dublin University.
---

©All rights reserved.