The Harveian oration delivered at the Royal college of physicians June 26, 1873: being an analysis of Harvey's exercises on generation.
---
Farre, Arthur, 1811-1887.
London : Longmans, Green, and Co., 1872.

Description : [1 l] pl., [i-vi] p., [1]-79 p. ; ill.: 1 phot., 1 in-text engr. ; 19.3 cm.

Photograph : (frontis.) oval albumen mounted on printed leaf, view of Scheemakers bust of Harvey.

Subject : Medical biography — William Harvey (1578-1657).

Notes :

Author caption: By Arthur Farre, M.D. Cantab. F.R.S. ; Physician-accoucheur to her royal highness the Princess of Wales ; consulting physician to King's College Hospital ; Late professor of obstetric medicine in King's College.
Lecturer in anatomy, St. Bartholomew's Hospital, 1836.
Lecturer, forensic medicine, St. Bartholomew's Hospital, 1838.
Medical degree, St. Bartholomew's Hospital, London, 1841.
Professor, obstetric medicine, King's College, 1841.
Fellow, Royal College of Physicians, 1843.
Examiner in midwifery, Royal College of Surgeons, 1852.
Harveian orator, 1872.
Honorary president, Obstetrical Society of London, 1875.
Journal edition without illustrations or appended notes.
Inscribed: The Library of the Royal College of Physicians. Presented by the author.
Photo caption: Latin inscription on the pedestal of the bust (see below).
Index Medicus: 10405951100, 10503361060 (journal).
---
Note (a) to Photograph facing Title Page. The bust in the Library of the College of Physicians, from which, by permission, the photograph facing the title-page has been taken, is supposed to be by Scheemakers [Peter Scheemakers, 1691-1781]. It was presented by Dr. Mead, October 1, 1730, and in the College, in Warwick Lane, was supported on a bracket, bearing the inscription quoted beneath, the photograph.—Page 60.
• • •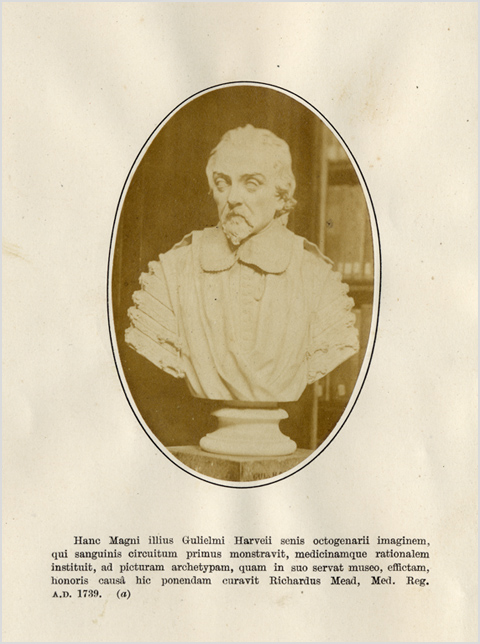 The topic of Farre's oratory is Harvey's treatise, Exercitationes de generatione animalium, published in 1651 at the behest of a friend and colleague, George Ent (1604–1689). Subtopics are presented in broad strokes and include epigenesis vis-à-vis metamorphosis, spontaneous generation, spermatazoa of Leeuwenhoek (illustrated), preformation theory, maternal impressions and the womb as a beast within a beast. Farre also presents an account, again in broad brush strokes, of the issues baffling his contemporaries including, the precise function of the sperm cell, heritablity, latent traits that are transmitted (atavism and double atavism), division of sex in the embryo. Anecdotes of Harvey's powers of intuition and empirical reasoning never fail to astound, considering the deep ignorance and superstitions that prevailed, even within his profession. Harvey trained and worked most of his life at the Royal Hospital of St. Bartholomew, the oldest hospital in London. Farre, also, trained and worked at Bart's, belonging to that notable subset of Harveian Orators who are closely associated with the hospital.
---

©All rights reserved.