Cases of zoster, or unilateral confluent herpes, of the ophthalmic region.
---
Bowman, Sir William, 1816-1892.
Journal : Ophthalmic Hospital Reports and Journal ; vol. vi.

London : Churchill, 1869.

Description : 1-11 p., [1 l] pl. ; ill.: 1 phot., tbls. ; 22 cm.

Photograph : collotype leaf, portrait of the clinical subject.

Photographer : Ernest Edwards (1837-1903).

Subjects : Face and eyes — Diseases ; Herpes zoster.

Notes :


Report dated, 1867.
Author caption: By Wm. Bowman, F.R.S.
Medical training, King's College, London.
M.R.C.S., 1839.
Assistant Surgeon, King's College Hospital, 1839.
Prosector, King's College, 1840.
Fellow, Royal College of Surgeons, 1844.
Assistant surgeon, Moorfields Ophthalmic Hospital, 1846.
Surgeon, Moorfields Ophthalmic Hospital, 1851.
Surgeon, King's College Hospital, 1856-62.
Knighted by Queen Victoria, 1884.
Founder, Ophthalmological Society, 1880.
GM-542: classical description of striated muscle.
GM-1231: Bowman's capsule–glomerulus of a vertebrate nephron.
GM-1505: microscopical description of the eye and ciliary (Bowman's) muscle.
GM-5867: operation for the artificial pupil.
GM-5879: treatment for (Bowman's) glands in the olfactory mucosa.
Index Medicus: 10601811110.
---
This case is illustrated by the annexed photograph, taken by Mr. Ernest Edwards about six weeks after the attack.—Page 10.
• • •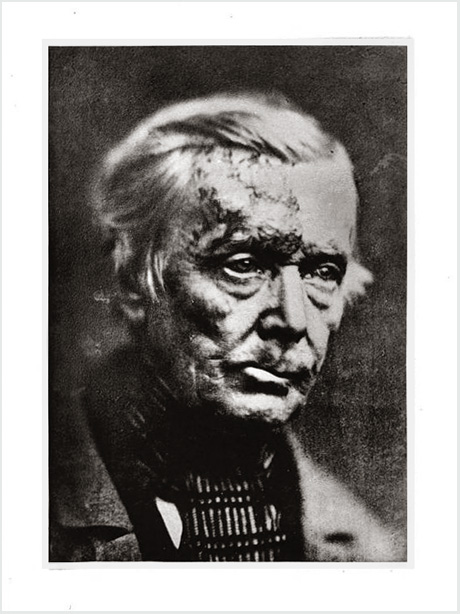 Commercial production of collotypes in England began in 1869, introduced by the photographer, Ernest Edwards, who was also first to add alum to the top surface of the printing plate to increase hardness. The print illustrating this report may have been his first commission. He later patented a process for printing color collotypes, using multiple plates. Bowman is known as England's father of histological anatomy and ophthalmic surgery.
---

©All rights reserved.