Klinische Beobachtungen zur Dystokie durch Beckenenge.
Gratulationsschrift zum 4, August 1882 zur Feier des 50jährigen Doctorjubiläums seines Vaters des Sanitätsrathes und Kreisphysicus Dr. Ludwig Winckel in Mulheim A|RH.
---
Winckel, Franz Karl Ludwig Wilhelm von, 1837-1912.
Leipzig : S. Hirzel, 1882.

Description : [i]-viii p., [1]-67 p., [1] p., [5 l.] pl. ; illus: 15 phot. figs., tbls. ; 28 cm.

Photographs : collotypes (Lichtdrucks), on printed cardstock.

Subject: Female pelvis — Deformities ; Dystocia.

Notes :


Author caption: Von Dr. F. Winckel in Dresden.
Medical degree, Friedrich Wilhelms-Institutes, Berlin, 1860.
Assistant and Secondary physician, Universität Entbindungsanstalt, Berlin, 1861-1864.
Director, Frauenklinik, Rostock, 1865-1872.
Director, Entbindungsanstalt, Dresden, 1872.
Member, Landes-Medicinal-Collegiums, Dresden, 1872.
Ordinary professor, gynecology, Munich, 1883.
Director, Gebäranstalt & Hebammenschule, Munich, 1883.
Rector, Munich medical school, 1903.
Eponym: Winckel's disease–fatal hematogenous icterus with cyanosis and hemoglobinuria in the newborn (GM-6338).
Named: Winckel, Ludwig (1809-1892).
Inscribed: W. P. Manton. Wien. Nov. 28/82.
Walter Porter Manton (1858-1925) studied under Dr. Winckel, 1881-84.
Photographers' caption: Lichtdruck from Römmler & Jonas in Dresden.
Includes bibliography, 38 cases of dystocia caused by narrow pelvis.
Index Medicus: 10706211370, 11604861330.
---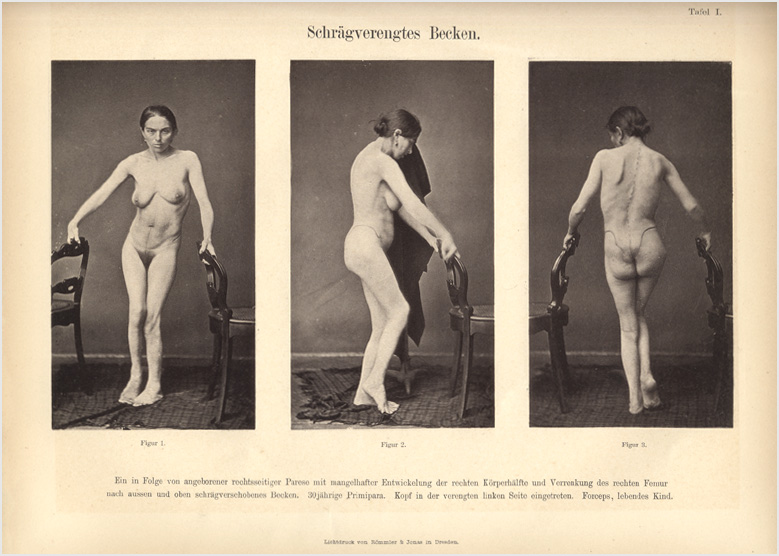 Each of the five plates shows front, back, and side views of a standing nude female subject. Except for the woman represented in Plate 2, solid black lines indicating the location of pelvic contours have been painted on the bodies of the women, dotted black lines trace the bony prominences of their spines.
---

©All rights reserved.