Die foetale Rachitis und ihre Beziehungen zu dem Cretinismus.
Festschrift zu der 100 jährigen Stiftungsfeier der Thierarzneischule in Hannover den 5. August 1878.
---
Eberth, Carl Josef, 1835-1926.
Leipzig : F. C. W. Vogel, 1878.

Description : [iv] p., 1-33 p., [1] p., [3 l.] pl. ; illus: 7 phot., tbls. ; 33.8 cm.

Photographs : 3 leaves of collotypes (Lichtdrucks), on printed cardstock.

Photographer : Johannes Ganz (1821-1886).

Subject : Fetus — Congenital disorders ; Rickets ; Cretinism.

Notes :


Author caption: Von C. J. Eberth, O. Ö. Professor der Pathologischen Anatomie und der Hochschule und Thierarzneischule in Zürich..
Doctorate, University of Würzburg, 1859.
Professor of Anatomy and Physiology, Universität Zürich, 1865.
Professor Ordinarius, Tierarzneischule, Zürich, 1869.
Professor, comparative anatomy and physiology, Universität Halle, 1881.
Professor emeritus, pathological anatomy, Universität Halle, 1911.
GM-5030: discovery of Salmonella typhi, "Eberth's disease."
Provenance: bookplate of Prof. Dr. Carl Wegelin, 1879-1968.
Index Medicus: 10305021330, 11202081320, 20406981130, 20508841130.
---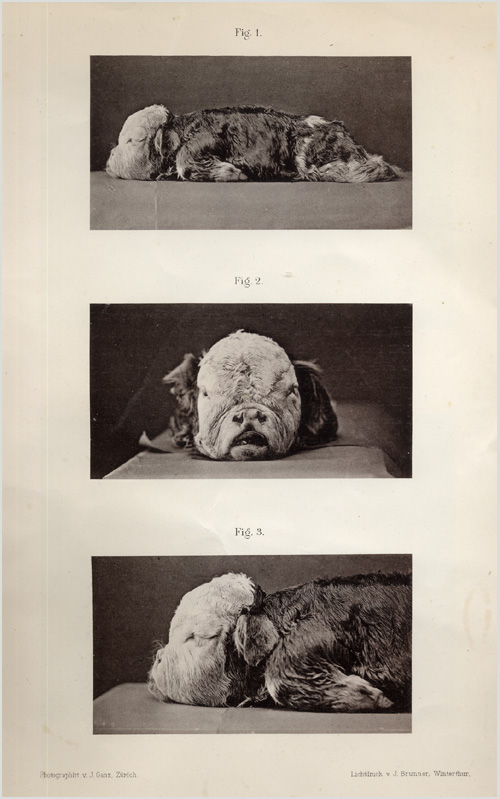 Included is a review of the literature, starting with Scharlau's preparations of two stillborns, possibly rachitic, the first one delivered by a 34 year-old wife of an alcoholic who, before coming to term, had experienced a shock from seeing one very disfigured and dwarfish man (vide: »»). Eberth was a master at tissue preparation and staining for the microscope. He was responsible for the reworked fourth and subsequent editions of Carl Friedländer's (1847-1887) textbook on microscopy titled, Mikroskopische Technik zum Gebrauch bei medizinischen und pathologisch-anatomischen Untersuchungen (Berlin: Fischer's medicinische Buchhandlung, 1889). The fifth edition ( 1894) included zincograph reproductions of Eberth's photomicrographs and a chapter on photomicrography written by Dr. Paul Heinrich Braunschweig (1859-1927), a privatdocent in opthalmology at University Halle at the time.
---

©All rights reserved.