Beitraege zur Anatomie der Wirbelsäule.
---
Bardeleben, Karl Heinrich von, 1849-1919.
Jena : Hermann Dabis, 1874.

Description : 1-39 p., [3 l.] pl. (part fold.) ; ill.: 48 photo. figs., engrs., tbls. ; 4°.

Photographs : three albumens mounted to 3 leaves, representing 48 bone specimens, mostly vertebrae.

Photographer : Carl Bräunlich (1850-1900).

Subject : Spine — Comparative anatomy.

Notes :


Author caption: von Dr. Karl Bardeleben, prosector in Jena.
Medical degree, Berlin, 1871.
Prosector, University of Jena, 1873-1878.
Associate professor, University of Jena, 1878.
Full professor, University of Jena, 1898.
Founder, editor, Anatomischer Anzeiger, 1886.
Bestowed the colors of Corps Thuringia Jena, 1905.
Photographer's name inscribed in the negative.
GM-433: "Handbuch der Anatomie des Menschen" (1896-1934).
GM-434: "Lehrbuch der systematischen anatomie des Menschen" (1906).
Index Medicus: 10107651200, 11304441080.
---
Allgemeine Bemerkungen

Die Schnitte Fig. 1-22, Taf. I und II sind mit der Kreissäge, alle übrigen aus freier Hand gesägt.

Sämmtliche Abbildungen sind in natürlicher Grösse von Herrn Photographen C. Bräunlich hierselbst aufgenommen.

Die eigenthümliche Anordnung der Tafeln I und II über einander ist gewählt, um ein möglichst getreues Bild einer sagittal durchschnittenen ganzen Wirbelsäule zu geben. – Soweit es technisch möglich war, sind die Schnitte 1-22 der natürlichen Krümmung der Wirbelsäule entsprechend angeordnet.—Page 39.
• • •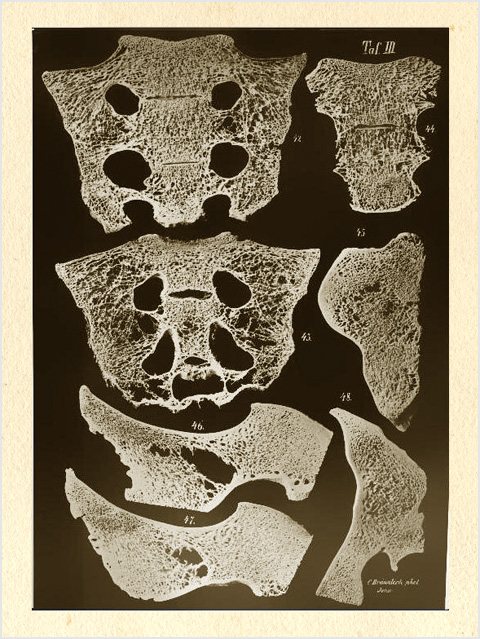 Bardeleben was the son of Heinrich Adolf von Bardeleben (1819–1895), who was a founding member of the Deutsche Gesellschaft für Chirurgie and Generalarzt during the Austro-Prussian and Franco-Prussian wars. Bardeleben was a field surgeon under his father's command during the war years. After the war, he continued his training with Wilhelm His in Leipzig. He was one of the first anatomists to apply mathematical constructs to bone morphology, but his greatest contributions were made as the creative force behind the journal, Anatomischer Anzeiger.
---

©All rights reserved.