Herpes tonsurans in vier concentrischen Ringen.
---
Arning, Edward, 1854-1936.
Journal : Vierteljahrsschrift für Dermatologie und Syphilis ; vol. x.

Wien : Wilhelm Braumüller, 1883.

Description : 98-99 p., [1 l. pl.] ; illus: 1 phot. ; 22 cm.

Photograph : collotype (Lichtdruck) on printed leaf.

Photographer : M. Jaffé, Wien.

Subject: Skin — Tinea circinata ; Tinea tonsurans.

Notes :


Author caption: Von Dr. E. Arning, Assistent an der Poliklinik.
Medical degree, Strassburg, 1879.
Trained under the dermatologist Oskar Lassa (1849-1907).
Awarded scholarship from the Königlich Preußische Akademie, 1884.
Leprosy research at the Molokai isolate for lepers, Hawaii, 1884-1886.
Physician-in-chief, Allgemeines Krankenhaus St. Georg, Hamburg, 1906-1923.
Professor of dermatology, University of Hamburg, 1919.
Emeritus, 1934.
Eponym: Arning's carcinoid—a superficial basal-cell carcinoma.
Photo caption: Tafel II ; Arning: Herpes tons. in 4 concentr. Ringen.
Index Medicus: 11405671100.
---
Die nach der Photographie reproducirte bildliche Darstellung spricht ja wesentlich für sich selbst.—Page 98.
• • •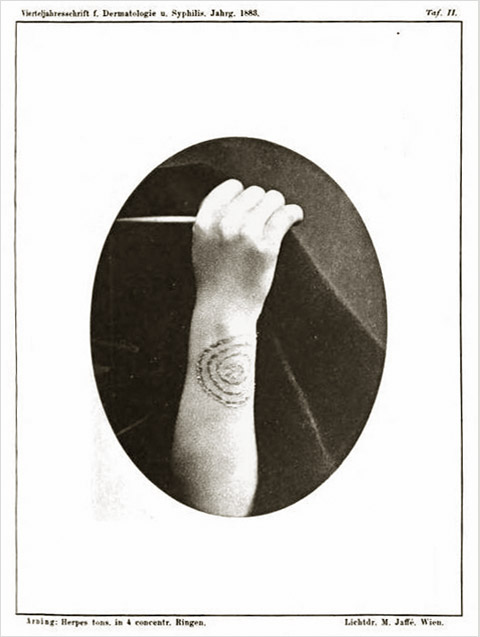 After specialized training in microbiology, Arning was hired to research Hansen's disease among the lepers who were quarantined at Molokai, Hawaii. While there, he petitioned the Privy Council to commute the death sentence of a convicted murderer so that he could attempt to innoculate the prisoner with the lepra bacillus. The experiment failed, but nevertheless he was dismissed from his post soon after, probably for political reasons. Arning was an amateur photographer and his large collection of native interest images are archived at the Hawaiian Historical Society (Edward Arning Collection»») including a wonderful photograph of Father Damien's leper colony at Molokai (v. externa:»»).
The collotype was prepared by the Jaffé firm of Vienna, owned by two brothers Max and Moritz who are credited with the invention of the halftone screen.
---

©All rights reserved.