Sur une déformation particulière du tronc causée par la sciatique.
---
Babinski, Joseph François Félix (1852-1932).
Journal : Archives de Neurologie, vol. xv., no. 43.

Paris : Bureaux du Progrès Médical, 1888.

Description : pp. 1-24, [5] pl. ; ill.: 5 leaves of plates, woodcut fig.s ; 22 cm.

Photographs : front and back images of 5 clinical subjects (process unverified).

Subject : Sciatica — Deformity (from).

Notes :


Author caption: Par le Dr J. BABINSKI, chef de clinique de la Faculté île médecine à la Salpêtrière.
Eponym: Babinski's sign — abnormal extensor plantar reflex.
Eponym: Babinski's sign — loss of or diminished Achilles tendon reflex in sciatica.
Eponym: Babinski's method — procedure for eliciting the Achilles reflex.
Eponym: Babinski-Froment syndrome — post-traumatic vasomotor and trophic disorders, diffuse amyotrophy and contractions.
Eponym: Babinski-Fröhlich syndrome — pituitary tumor with genital arrest.
Eponym: Babinski-Nageotte syndrome — medullary tegmental paralysis.
Eponym: Babinski-Anton syndrome — anosognosia.
Index Medicus: 11207701020.
---
DÉFORMATIONS PARTICULIÈRES DU TRONC CAUSÉES PAR LA SCIATIQUE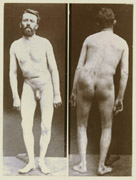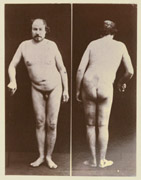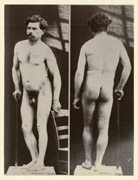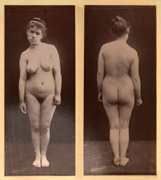 Plates 1, 2, 4, and 5, shown here, are linked to enlargements. Each of the 5 plates show front and back views of a clinical subject, unclothed and standing. Plates 3 and 5 are of adult females, the other three subjects are adult males.
The photographs conform with a characteristic posture of sciatica, which was first observed by Charcot, according to Babinski in his opening paragraph. However, this claim was quickly disputed by Wilhelm Erb in a letter to the editors of Neurologisches Zentralblatt wherein he credits a paper of Carl Nicoladoni titled, Ueber eine Art des Zusammenhangs zwischen Ischias und Skoliose (Wien. med. Presse, 1886) with having the first observations of pattern deformity in sciatica. Babinski followed this study with another one eight years later, titled, Abolition du réflexe du tendon d'Achille dans la sciatique (Paris, 1886) in which he described the degradation of the Achille's reflex in sciatica.
---

©All rights reserved.