A case of extra-uterine pregnancy, the foetus being delivered at four months, per rectum.
---
Tuttle, James Percival, 1857-1913.
Journal : Annals of gynaecology and pediatry ; vol. ii.

Boston : Rockwell and Churchill, 1889.

Description : 207-212 p., [1 l.] pl. ; ill.: 1 phot. fig. ; 23 cm.

Photograph : photoengraving on printed leaf.

Subject : Uterus & adnexa — Extra-uterine pregnancy.

Notes :


Author caption: By James P. Tuttle, A. M., M. D., New York.
Medical degree, University of Pennsylvania, 1881.
Professor emeritus, rectal surgery, New York Policlinic Medical School.
Eponym: Tuttle proctoscope.
Read before New York Academy of Medicine, Dec. 2, 1888.
Photo caption: see below.
Index Medicus: 11106081060.
---

Photo caption:

EXTRA-UTERINE PREGNANCY.

The foetus being delivered at four months per rectum. Reported by JAMES P. TUTTLE, M.D., New York. (See pp. 207-212, ANN. OF GYN., February, 1889.)
• • •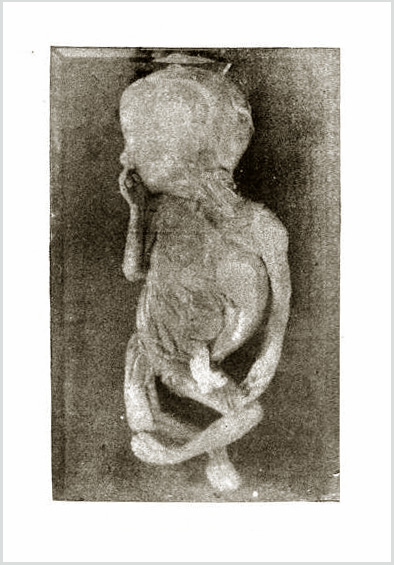 ---

©All rights reserved.