A record of the Metropolitan Fair : in aid of the United States Sanitary Commission, held at New York, in April, 1864. With photographs.
---
Corporate authors : United States Sanitary Commission.
New York : Hurd & Houghton, 1867.

Description : [4 l.] p., 1-261 p. ; ill.: 8 phot., plans, tbls. ; 23 cm.

Photographs : 8 albumens mounted leafs.

Photographers : J[eremiah] Gurney & Son (plates 1-6) ; M[aurice] Stadtfeld (plates 7-8).

Subject : Military medicine — Care of wounded.

Notes :


Author caption: J. S. F. & E. S. [preface].
See also: Stillé »»
Index Medicus: 11410141020, 11410141150, 11606231180, 21403351340.
---
And going up still another flight of stairs by the dining-saloon, one found a Photographic Gallery, where one might sit for a carte de visite, or buy nice stereoscopic views of the Fair. We hope that we make pardonable exception to our rule of not naming people in this little record, when we say that the photographers who fitted up this little gallery, and took pictures here, were Gurney and Son. Our reason for making this exception is, that they also took views of the more striking portions of the Fair, some of which are included in this volume. The Photographic Gallery returned $456.05.—Page 169.
• • •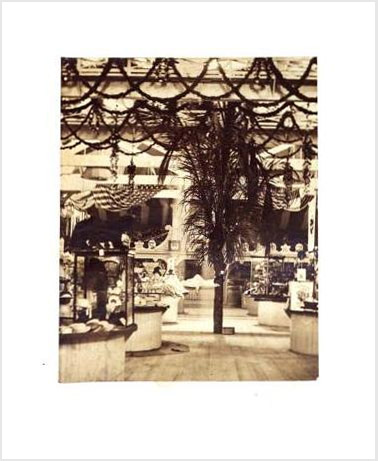 No. 1. View In Arms And Trophies Room.


No. 2. View In The Wigwam.


No. 3. View In Curiosity Shop.


No. 4. View In Art Gallery.


No. 5. Irving Cockloft.


No. 6. View In Main Hall, 14th Street Building.


No. 7. Hartford Booth.


No. 8. Costumes Of Ladies In Knickerbocker Kitchen.
Jeremiah Gurney, the creator of the first 6 images in this book, competed aggressively against Brady for the studio portraiture market. In 1865, Gurney offended a lot of people when he took a photograph of Lincoln in his coffin (Gurney and Our Dead President, Humphrey's Journal, 15 May 1865, pp. 29-30). It was believed that General Stanton destroyed all the negatives and prints, but in 1952 a single print was found among the papers of John Nicolay, Lincoln's secretary (Zeller, Bob, The blue and gray in black and white: a history of Civil War photography,) Greenwood Publishing Group, 2005).
---

©All rights reserved.