Biographical sketch of James Aitken Meigs, M.D., late president of the Philadelphia county medical society.
---
Hamilton, George, 1808-1885.
Philadelphia : Collins, 1880.

Description (offprint) : [1 l.] front. pl., [1]-22 p. ; ill.: one phot. ; 23.8 cm.

Photograph ; signed (in negative) albumen portrait of Meigs, mounted on card.

Subject : Medical biography — James Aitken Meigs (1829-1879).

Notes :

Author caption: By George Hamilton, M. D., Ex-president of the society.
Title text: Extracted from the Transactions of the Medical Society of the State of Pennsylvania for 1880.
Title text: Read before the members February 25, 1880.
Repr. from: Tr. M. Soc. Penn., Phila., (1880), vol. xiii, pt. 1. ; p. 385-400.
Journal title: James Aitken Meigs, M. D., 1829-1879.
Journal paper not illustrated.
Inscribed: To Dr. J[ames] Cheston Morris with the regards of Geo. Hamilton.
Cordasco 80-2591.
Index Medicus: 10508091050 (offprint).
---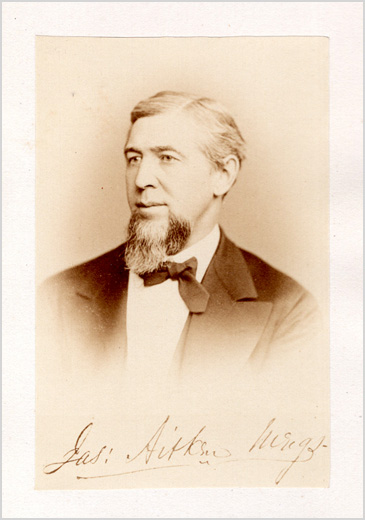 ---

©All rights reserved.