On a perfected method of photographing the larynx.
---
French, Thomas Rushmore, 1849-1929.
New York : D. Appleton and Company, 1884.

Journal : New York medical journal ; vol. 40.

Description : [1 l.] pl., 653-656 p. ; ill.: 12 phot. figs., 2 engr. ; 19 cm.

Photograph : 1 leaf of Bierstadt artotypes with captions, in vivo views of normal and diseased larynges.

Photographer : George Bradford Brainerd (1845-1886).

Subject : Larynx — Laryngoscopy ; photography.

Notes :
Author caption: By Thomas R. French, M. D., Lecturer on Laryngoscopy and Diseases of the Throat at the Long Island College Hospital Medical School ; Consulting laryngoscopic surgeon to St. Mary's Hospital, Brooklyn.
Medical degree: College of Physicians and Surgeons, New York, 1871.
President, American Laryngologist Association.
Discoverer of the structure and significance of the intratonsiller nodules.
Inventor of the tonsilloscope.
GM-3290: French was the first to obtain good photographs of the larynx (1882).
GM-3291: By means of a special camera of his own invention French improved the method of photographing the larynx (1884).
Offprint also published.
Rutkow-OTp57.
Cordasco 80-2177.
Index Medicus: 10708581070, 20510721350, 20902711320, 21701721110.
---
It is now more than two years ago that, with the assistance of Mr. George B. Brainerd, of Brooklyn, I made my first attempt to photograph the larynx of the living subject. The results obtained at that time were far from satisfactory, yet we were sufficiently encouraged to continue our experiments, and, though meeting at times with difficulties which seemed almost insurmountable, these experiments have finally been brought to a successful termination. Our object has been not only to obtain good photographs, but to devise an easy method by which any expert laryngoscopist can photograph the larynges of his patients in every-day practice. This we have accomplished.
The assistance rendered by Mr. Brainerd has been invaluable. This gentleman, who is an extremely skillful amateur photographer, is a civil engineer by profession, and his interest in this work has been purely of a scientific character. He became interested in these experiments while under my care for the treatment of an acute affection of the larynx, nearly two years and a half ago. Having volunteered his services, he entered into the work with great enthusiasm, which has continued unabated until the present time. Prior to the beginning of our experiments, though many had tried, all had failed to produce a good photograph of the larynx.–Page 653.
• • •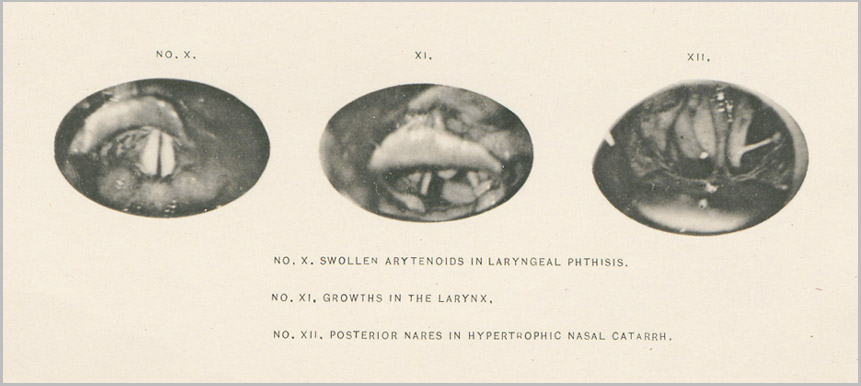 ---

©All rights reserved.