On photographing the larynx.
---
French, Thomas Rushmore, 1849-1929.
New York : G. P. Putnam's Sons, 1883.

Journal : Archives of Laryngology ; vol. iv.

Description : [1 l.] pl., 235-243 p. ; ill.: 6 phot. figs., 2 engr. ; 24 cm.

Photograph : Bierstadt artotype, composite 5 images of the in-vivo larynx, and 1 drawing. Captioned in the negative.

Photographer : George Bradford Brainerd (1845-1886).

Subject : Larynx — Laryngoscopy ; photography.

Notes :
Author caption: By Thomas R. French, M. D., Brooklyn.
Medical degree: College of Physicians and Surgeons, New York, 1871.
President, American Laryngologist Association.
Discoverer of the structure and significance of the intratonsiller nodules.
Inventor of the tonsilloscope.
Reprint from Transactions of the American Laryngological Association, vol. v, p. 59-68.
Read before the American Laryngological Association, session 1883.
First printing without the photo plate.
First printing includes discussion, not found in later issues.
Offprint also published with the plate.
GM-3290: French was the first to obtain good photographs of the larynx (1882).
GM-3291: By means of a special camera of his own invention French improved the method of photographing the larynx (1884).
Rutkow-OTp55 (notice) ; OTp56 (Transactions imprint).
Cordasco 80-2175 (1882 monograph).
Cordasco 80-2176 (1882).
Index Medicus: 10708581050 (1882 paper), 10501881150 (1882 offprint), 10708581060, 20510721340 (1883 offprint).
---
AT the last session of this Association, I presented several photographs of the larynx taken with the assistance of Mr. George B. Brainerd, of Brooklyn, only a few days before the meeting.
Since then we have made numerous experiments with various forms of apparatus, all of which have been constructed by Mr. Brainerd.
This gentleman's assistance has been simply invaluableHe is a civil engineer by profession, and became interested in the larynx and laryngoscopy immediately after I had incised an abscess in his larynx, which had begun to interfere with respiration. I soon succeeded in teaching him to examine his own larynx, and seeing that he was much interested in the study of its movements, and knowing him to be an expert amateur photographer, I broached the subject of photographing the laryngoscopic image. He entered into the solution of the question with the spirit of scientific inquiry, and, because of his untiring industry and great ingenuity, has been mainly instrumental in enabling me to present to-day these photographic pictures of the interior of the larynx.–Page 235.
• • •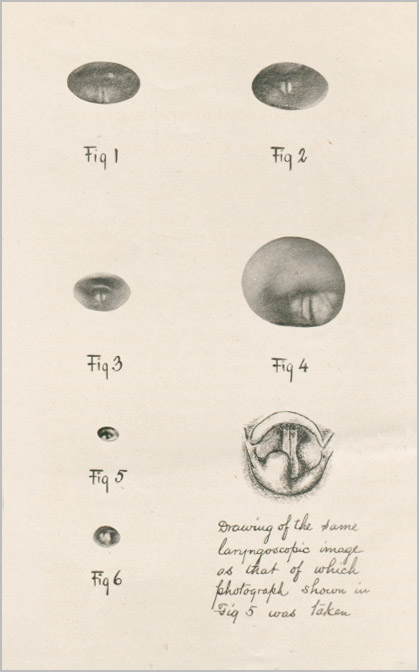 Dr. French began photographing the larynx in 1882 and presented his earliest images at the fourth annual session of the Laryngological Association, held in Boston that year. His summation was published in the Transactions of the society (vol. iv, p. 32-34) and the discussion that followed provided several wonderful anecdotes on previous attempts to photograph the larynx. Index Medicus indicates an offprint of this first paper illustrated with a photographic plate, but not yet confirmed by this bibliographer. His reputation was secured, however, by the photographic plate illustrating the 1883 paper and shown here. Dr. French continued perfecting his technique, publishing his studies well into the 1890's.
---

©All rights reserved.