A clinical lecture on leprosy.
---
Dunn, James Henry, 1853-1904.
St. Paul : W. L. Klein, 1888.

Journal : Northwestern Lancet ; vol. viii.

Description : 57–60 p., [1 l.] pl. ; ill.: 1 phot. ; 4to.

Photograph : mounted albumen of a male leper, age 36, seated and bare-chested.

Photographer : unknown.

Subject : Skin — Leprosy.

Notes :

Medical degree: New York University, 1878.
Minneapolis city physician, 1887-89.
Chief surgeon, St Mary's and Asbury Hospitals, Minneapolis.
Professor, dermatology and genito-urinary surgery, Minnesota College Hospital.
Professor of surgery, College of Medicine and Surgery, University of Minnesota, 1901.
President of the Minnesota State Medical Association, 1888-89.
Vice-President of the American Medical Association, 1902.
Abstract: Monatsschrift für praktische Dermatologie, vol. 9 ; p. 78-79.
Provenance: The Medical & Scientific Library of W. Bruce Fye.
Index Medicus: 20904281730.
---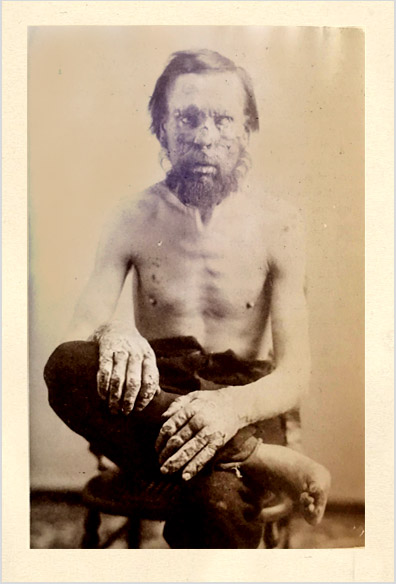 Dr. Dunn first practiced within the German community of Shakopee, Minnesota, mastering the language to better care for his patients. The son of a farmer, he became a prominent surgeon Minneapolis and was state delegate to the International Medical Congress held in Copenhagen, 1884. He was an organizer of the first general hospital in Minneapolis and chaired the surgical department of Minnesota University.
---

©All rights reserved.