Double monster.
---
Battey, Robert, 1828–1895.
Journal : Atlanta Medical and Surgical Journal ; vol. 12.

Atlanta : Dunlop, Wynne & Co., 1875.

Description : 154-155 p., [1 l.] pl. ; ill.: 1 phot. ; 23 cm.

Photograph : photograph mounted to printed leaf, representing a fetal monster.

Photographer : Bowdoin [of Atlanta].

Subject : Monsters — Thoracopagus twins.

Notes :

Author caption: Dr. Battey exhibited...etc.
Medical degree, University of Pennsylvania, 1857.
Professor, obstetrics, Atlanta Medical College, 1873.
GM-6062: Battey's operation. Ovariotomy of healthy ovaries to cure uterine fibroids and other conditions.
GM-6071: R. Lawson Tait's claim against Battey, for priority in removal of normal ovaries.
Photo caption: Double Monster. From Bartow county, Georgia, exhibited to the Atlanta Academy of Medicine, April 27th. by Robert Battey, M.D.–See Proceedings of the Academy.
Index Medicus: 10903971380.
---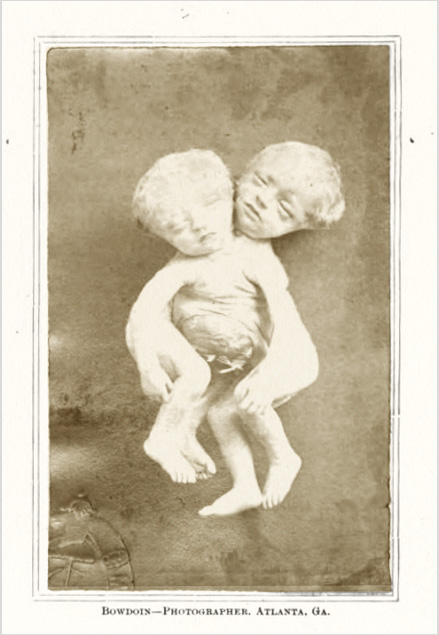 ---

©All rights reserved.