Iets over empyeembehandeling.
---
Thomée, Johannes, 1859-1916.
Leiden : S. C. Doesburgh, 1885.

Description : [4 l.] p., 1–136 p., [1 l.] pl. ; ill.: 1 phot., 23.2cm.

Photograph : mounted albumen on bound card.

Photographers : firm of Jan Goedeljee (1824-1905) and son, Johannes Goedeljee (1849-1921) – attrib.

Subject : Pleural cavity — Empyema ; thoracoplasty.

Notes :

Author caption: Proefschrift, Door J. Thomee.
Medical degree: Rijks-Universiteit, Leiden, 1885.
Medical dissertation.
Inscribed: E[mile] V[an] D[er] Does de Willebois.
Includes review of the literature.
Index Medicus: 11404821070.
---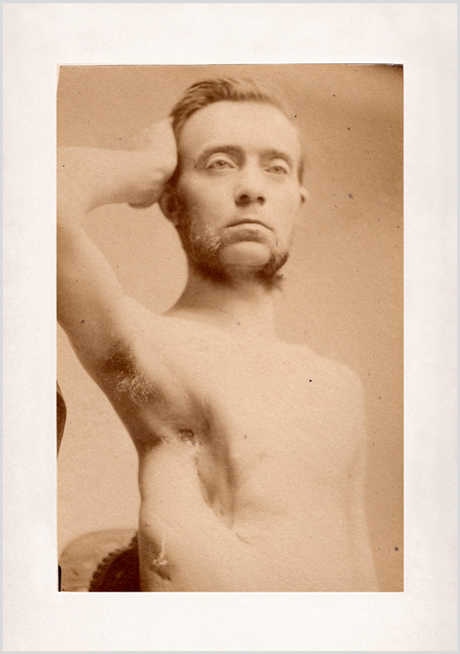 Image is of a male subject, posed with his arm raised to show a surgical wound with its drain, resulting from a new procedure for empyema, introduced by Dr. Max Schede (1844–1902). Schede's thoracoplasty called for resection of several ribs along with intercostal structures and the parietal pleura membrane, thereby reducing the pleural cavity and bringing infected tissue into contact with the musculature of the chest wall. Schede took photographs of his patients, but this may be the first published photograph of the dramatic surgery.
---

©All rights reserved.