Das Rhinosklerom :
Eine klinische, mikroskopische und bakteriologische Studie /
---
Wolkowitsch, Nicolai.
Offprint : [Langenbeck's] Archiv für klinische Chirurgie, vol. 38, 1888-89.

Berlin : Deutsche Gesellschaft für Chirurgie, 1888.

Description : [1]-173 p., 14 l. ; ill.: tables h. t., 9 photo. eng., 5 chromolith. (part fold.) ; 22.2 cm.

Photographs : 9 photogravures of clinical portraits.

Photographer : H. Riffarth.

Subject : Rhinoscleroma.

Notes :


Dissertation, translated from the Russian (Kieff 1888) :

Rinoskleroma (scleroma respiratorium) s klinicheskoi, patologoanatomicheskoi i bakteriologicheskoi storon.

Assistant to Professor Bornhaupt at Kiew Hospitalklinik.
Wolkowitsch became the director of surgery at the Kiew Hospitalklinik.
Scarce, no copies in Worldcat.
Index Medicus: 11201621390 (Russian edition).
---
This scarce dissertation is illustrated by nine masterful copperplate engravings, produced by H. Riffarth in Berlin. The first plate is a reproduction of a watercolor drawing by Professor Bornhaupt who was Wolkowitsch's mentor. The subsequent plates are photographs including one of an infant afflicted with rhinoscleroma.
• • •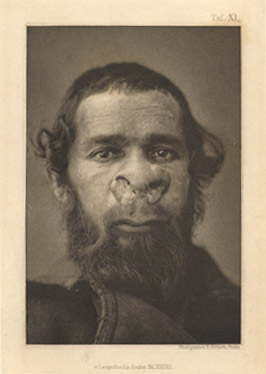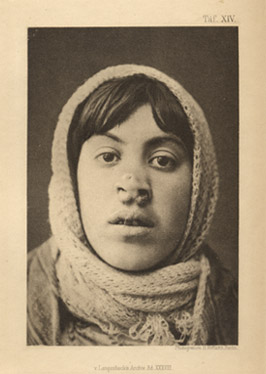 ---

©All rights reserved.