The removal of the arm, the scapula, and part of the clavicle for osteo-sarcoma of the shoulder.
Read before the Brooklyn Surgical Society, November, 1891.
---
Wight, Jarvis Sherman 1834-1901.
Journal : Illustrated Medicine and Surgery.

New York : E.B. Treat, 2nd edition, 1892.

Description : 6-8 p. ; ill., 1 photo. ; 30.5 cm.

Photographs : 1 text figure, composite photoengraving.

Subject : Osteosarcoma — Amputation, Upper Extremities.

Notes :


Professor of Operative and Clinical Surgery, Long Island College Hospital.
Published in the second edition only.
Index Medicus: n/a.
---
Wight was one of America's most gifted surgeons, famous for the speed and efficiency with which he conducted an operation. He was a tireless innovator of procedures and instruments, and a prolific writer with over 140 papers and books cited in the Index Medicus. This document, however, is missing from the catalog.
• • •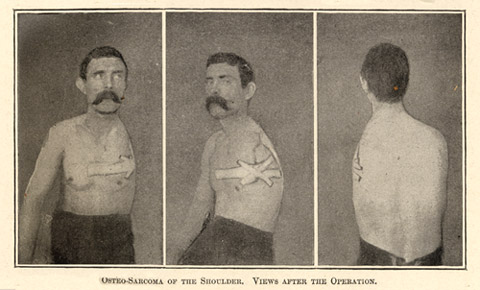 ---

©All rights reserved.