Photography of microscopic sections.
---
Whitson, James, 1847?-1907.
Journal : Glasgow Medical Journal ; vol. xix.

Glasgow : Alex. MacDougall ;
London : H. K. Lewis, 1883.

Description : [1 l.] pl., 211-215 p. ; ill.: 1 phot., 3 figs. ; 22 cm.

Photograph : woodburytype.

Photographer : Adolf Schulze.

Subject : Breast — Tumors ; photomicrography.

Notes :


Author caption: By JAMES WHITSON, M.D., F.F.P. And S.G., Surgeon to the Dispensary of Anderson's College; Late Extra Dispensary Surgeon, Glasgow Royal Infirmary.
Co-founder of St. Andrew's Ambulance Association.
Reference: Whitson (1883), On a case of adeno-sarcoma of mamma; removal of growth; recovery. London: The Lancet; v. i (p. 1122).
Reprint: (1883) The photographic times and American photographer. New York: Scovill ; vol. xiii, (p. 321-323).
The photomicrograph plate faces page 168.
Index Medicus: na.
---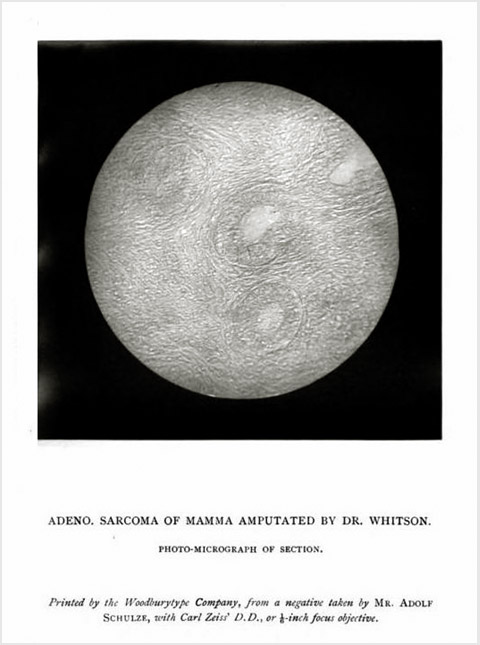 Whitson reported on a case of spindle cell sarcoma of the mamma in the London Lancet and arranged to have a slide preparation made of the tumor for this photograph. Remarkably, no stain appears to have been used.
---

©All rights reserved.