One hundred and thirty-eight cases of amputation of the scrotum for elephantiasis Arabum.
---
Turner, George Alexander, 1845-1900.
Journal : Glasgow Medical Journal ; vol. xvii.

Glasgow : Alex. MacDougall ;
London : H. K. Lewis, 1882.

Description : [2 l.] pl., 401-411 p. ; ill.: 7 phot. ; 22 cm.

Photograph : 7 photoengravings on two leaves.

Photographer : George Alexander Turner.

Subject : Scrotum — Filariasis ; amputation.

Notes :


Author caption: By GEO. A. TURNER, M.D., C.M. Late Medical Missionary, Samoa.
Ordained minister at Anderston U.P. Church Glasgow, 1867.
Reprint: (1882) New York Medical Abstract. New York: Medical Abstract Press ; vol. ii., (p. 245-248).
Reprint has in-text drawing of the instrument.
Reprint: (1882) California Medical Journal. Oakland: D. D. Crowley ; vol. iii., (p. 356-366).
Two additional Turner scrotum photos appear in: Manson (1905), Lectures on tropical diseases. Chicago: Keener; p. 69.
Offprint also issued.
GM 4059 : for the first description of tinea imbricata.
Index Medicus: 20601361620.
---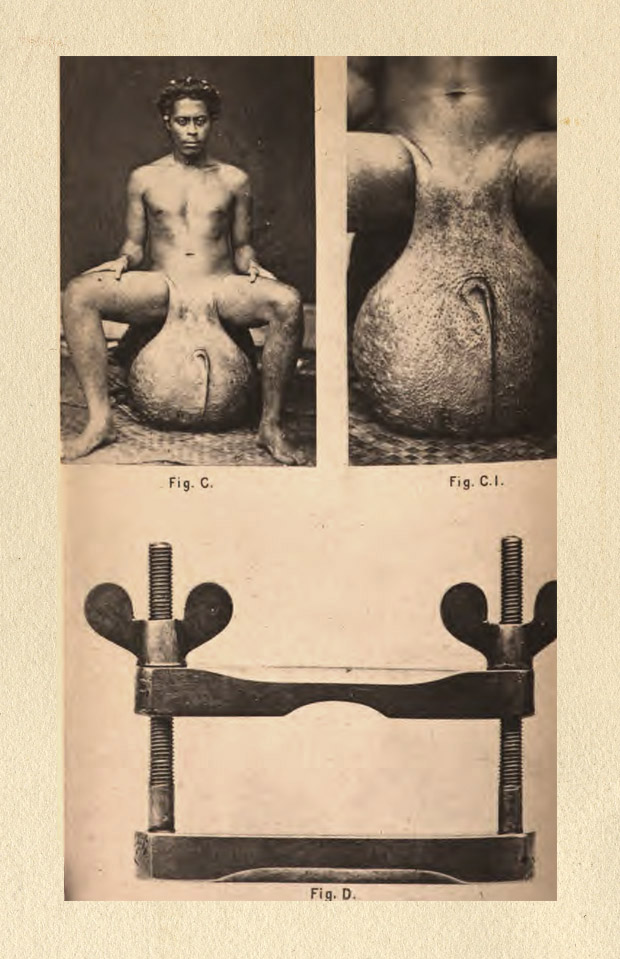 Turner was born in Samoa, the son of a missionary, and he was fluent in the Samoan language. After completing concurrent medical and theological studies in Scotland, he returned to his birthplace as a medical missionary and served the indigenous population for more than 11 years until 1879 when illness forced his return to Glasgow. His first scrotal amputation took place soon after his arrival in Samoa, conducted with the assistance of Dr. George V. M'Donough, staff surgeon of the H.M.S. Cossack which was anchored off the coast at the time. M'Donough also designed a parallel bar clamp — fabricated by the chief engineer of the Cossack — an instrument that became indispensible for carrying out many of the 138 amputations performed by Turner. An improved model of the device is represented in Fig. D of the photographs and it is simply a larger version of a clamp that was used for ovarian tumors. Figures A and B represent the largest tumors that were removed, weighing close to 80 pounds and measuring 40 inches in circumference. Figures A 1 and B 1 show the patients after recovery. Only two of Turner's patients died from complications.
---

©All rights reserved.