Clinique médicale de l'Hôtel-Dieu de Paris.
---
Trousseau, Armand, 1801-1867.
Paris : J.-B. Baillière et fils, 1868 (3rd edition).

Description : 3 vol., [1 l. pl.] ; ill.: 1 phot. ; 23 cm.

Photograph : photogravure portrait of Trousseau, frontis. of vol. 1.

Photographer : Félix Nadar (1820-1910).

Subject : Internal medicine.

Notes :
Author caption: Par A. Trousseau, Professeur de Clinique Médicale de la Faculté de Médecine de Paris, Médecin de l'Hôtel-Dieu, Membre de l'Académie impériale de médecine, Commandeur de la Légion d'honneur, Grand officier de l'ordre du Lion et du Soleil de Perse, Ex-représentant du peuple à l'Assemblée nationale, etc., etc.
Numerous editions including translations into English, German, and Spanish.
Portrait photograph not in the first two French editions nor in the first foreign editions.
Title page content: Accompagnée du portrait de M. le professeur Trousseau.
Photo caption: Photographie Nadar. Héliographie Baudran et De la Blanchère.
Photo caption: Trousseau.
Eponym: Trousseau's sign–pressure induced carpal spasms and paraesthesia.
Eponym: Trousseau's phenomenon or spots–red streaking produced by scratching in cerebral diseases.
Eponym: Trousseau's syndrome–Nygaard-Brown syndrome.
GM-1967, GM-2221, GM-3258, GM-3864, GM-3915, GM-4830, GM-5054.
Index Medicus: 10810281090, 11407881360.
---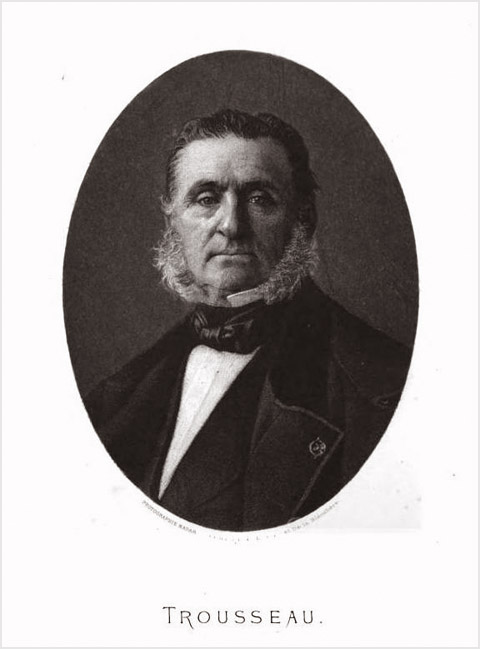 ---

©All rights reserved.