On a case of multiple melanotic sarcoma.
---
Tennent, Gavin Paterson, 1846?-1913.
Journal : Glasgow Medical Journal ; vol. xxiv.

Glasgow : Alex. MacDougall ;
London : H. K. Lewis, 1885.

Description : [2 l. pl.], 81-91 p. ; ill.: 2 phot. ; 22 cm.

Photographs : front and side views of the clinical subject.

Photographer : Maclure & MacDonald (Andrew Maclure and Archibald Gray MacDonald).

Subject : Skin — Metastatic melanotic sarcoma.

Notes :


Author caption: By GAVIN P. TENNENT, M.D., Physician to the Western Infirmary, Glasgow.
Tennent willed the funds that established a department of ophthalmology at University of Glasgow.
Reprint: Trans. Glasg. Path. & Clin. Soc. Glasgow: vol. ii., 1884-86, (pp. 102-119).
Autopsy conducted by Dr. Joseph Coats, (1846-1899).
Autopsy report: Coats, On a case of multiple melanotic sarcoma, with remarks on the mode of growth and extension of such tumors. Ibid.: pp. 92-97.
Index Medicus: 10900931410, 21810141580 (reprint).
---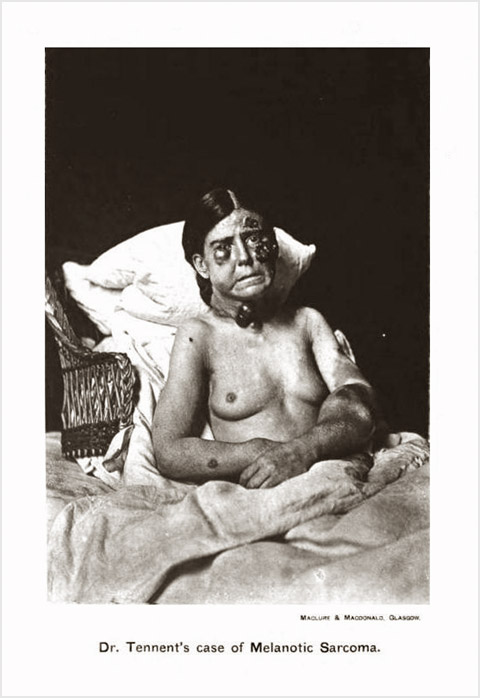 The two full-page plates show "Mrs. J.", a 30 year-old housewife, in bed and supported by a wicker backrest, exposing her nude torso and a face implicated by the blue black fruitings of a virulent pigmented cancer.
---

©All rights reserved.