Bacillus Anthracis.
---
Sternberg, George Miller, 1838-1915.
New York : Thompson & Moreau, 1881.

Reprint : The American Monthly Microscopical Journal, August, 1881.

Description : [1] - 4 p. ; ill., 1 pl. , 23 cm.

Photograph : Heliotype, 4 photomicrographs on 1 leaf.

Subject : Bacteriology, B. Anthrax.

Cited : Cordasco, 80-5955.
---
The researches of Davaine, Koch, Cohn, Pasteur, Greenfield and others seem to me quite conclusive as to the intimate and essential relation of the 'Bacillus" to the etiology of anthrax, and further confirmation scarcely seems necessary. Moreover, my time is fully occupied by other experimental researches. I shall take this opportunity however for making a few remarks upon the staining of bacteria for the purpose of making photo-micrographs of them.
Sternberg obtained a seven year old sample of the anthrax bacillus from his colleague at Johns Hopkins, Professor J. Newell Martin, and he used the sample to successfully infect a field mouse which died within 36 hours from the injection of bacilli. The purpose of this brief paper is to provide a comparative analysis of stains:
Fig. 1, from liver of mouse, stained with anilin violet (ink).
Fig. 2, from culture in chicken-bouillon, stained with iodine solution (5 per cent.), without the use of sulphuric acid.
Fig. 3, from liver of mouse, stained with anilin brown.
Fig. 4, from liver of mouse, stained with iodine solution.
The amplification is 1,000 diameters in Figs. 1, 2 and 4, and 500 diameters in Fig. 3.
Fig. 1 was made with Zeiss' 1/18-inch homogeneous oil-immersion objective and Tolles' amplifier ; Figs. 2, 3 and 4 with the 1/12 inch homogeneous immersion of Zeiss.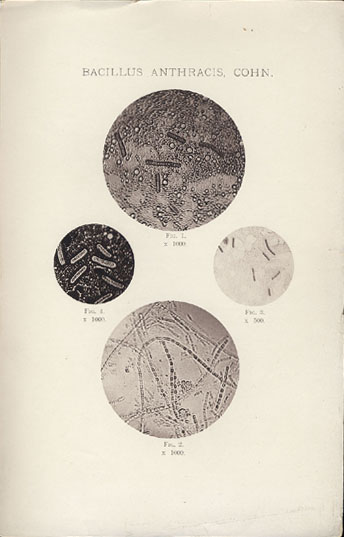 ---

©All rights reserved.