A winter in Paris;
being a few experiences and observations of French medical and sanitary matters gained during the season of 1865-6.
---
Simms, Frederick M. B.
London ; Churchill, 1866.

Description : front., [i]-xi, 151 pp. ; ill., 2 pl., 18 cm.

Photographs : 2 mounted albumens, views of Hotel Dieu and Hôpital Saint-Louis.

Subject : Sanitation, Paris.

Notes :
Contains errata slip.
Bound by Edmonds & Remnants, London.
Son of the civil engineer Frederick Walter Simms (1803-1865).
With an inscription by L. P. Yandell, Jr. who served as an assistant surgeon in the 4th regiment during the Civil War :
L. P. Yandell Jr., No 12 Rue Jacob, Paris 1867 Nov. 7th ;

L. working her paint brushes. My head tied up in a red shawl & right sick of face aching with rumalgia.
---
I cannot agree that the "Parisian Hospitals are the finest in the world :" their interior arrangements are not at all comparable to those of most of our London establishments, although their general management is, I believe, far more economical and careful, whilst their large airing-grounds and pleasant gardens make them little paradises for the convalescents. Their wards are almost always stuffy, overheated, and overcrowded ; whilst their floors, I believe, rarely see clean water, but have instead all the dirt and infection grimed in by the "frottement."
There is scant biographical material for Frederick Simms except for an obituary which appeared in Lancet (1891, v. 1, no. 3520, Feb. 14), it was his father who was the better known, his reputation built on grand civil engineering works both in England and in India, and known, too, for the maps he made of Calcutta.
Simms gives a few lines of praise for each of the Parisian hospitals he reviews, often remarking that England's hospitals could be improved by an accommodation of French architecture. He often sours in his opinions, however, and his prose levels with a gentlemanly curl of the lip, this from "an Englishman starting with prejudices greatly in favour of his own city." His words can be quite cutting, writing of French physicians, for example :
They must be greater believers than most of us in the life-producing character of dirt, which must have certainly, according to their view, which seems to be in accordance with that of the lower orders in general, the property of preventing its wearer ever catching a chill or feeling cold in his bed at night.
Chapter two is titled, The general hospitals of Paris, and a few points related to their practice, and includes descriptions of Hôtel Dieu, Hôpital Lariboisièr, La Charité, Hôpital Necker, La Pitié, Hôpital Beaujon, Ste. Antoine, and Hôpital Cochin. Chapter three is titled "Special hospitals of Paris" and includes descriptions of Hôpital Saint-Louis, Hôpital des Cliniques, Ste Eugénie, Hôpital des Enfants Malades, Hôpital du Midi which, under the direction of Ricord specialized in treating cases of syphilis, Hôpital de Lourcine, and finally Hospice de la Maternité.
The greater portion of this small volume is dedicated to a chapter 3 description of Hôpital Saint-Louis which served the poorest district of Paris and therefore found most of its service engaged to treating the many skin contagions that predominated in that population, especially syphilis but even more extensively the diseases of lice and ringworm. Alfred Hardy was the administrator at the time, putting into practice the aggressive treatments of the great Pierre-Antoine-Ernest Bazin who at age 60 was still a director of one of the departments. Simms provides a description of the frottement for lice which included a series of scrub baths with savon noir and salving with sulphuret of lime. He also discusses treatments for ringworm and syphilis and remarks over those points that differ from English dermatology.
Final chapters cover medical education in France, the sewer system and water works, and the regulation of prostitutes and rag pickers. The informational value of this condensed but readable volume is the contrast Simms provides between the French centrally administered hospital system with that of the more dissipate and liberal hospital governance practised in London.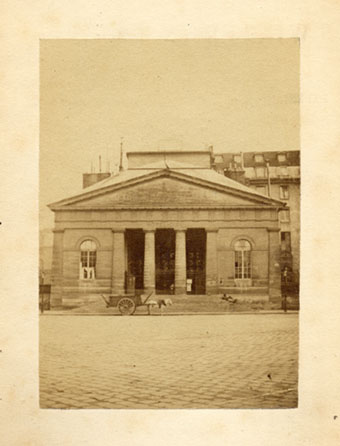 Hotel Dieu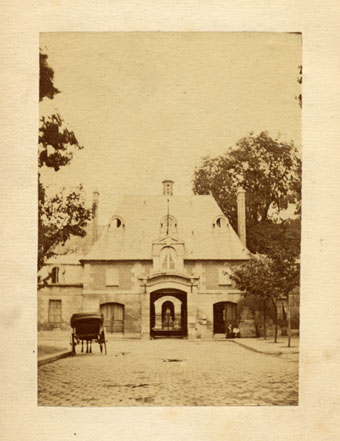 Hôpital Saint-Louis
Among the curiosities of skin practice, I may mention some cases of eruptions from moral causes, one of which was especially striking, as it occurred in the case of a man who was one day crossing a street, and in so doing narrowly escaped being run over ; a state of affairs which, as regards his skin, did not pass away until three days afterwards, when he broke out in a most terrible psoriasis, his whole body being a mass of eruption, exhibiting every form of the disease, and being somewhat difficult to cure.*

* A few years before, the same patient had a somewhat similar adventure.
---

©All rights reserved.