Pemphigus foliaceus (of Cazenave) — case and remarks.
---
Sherwell, Samuel, 1841-1927.
Journal : Archives of Dermatology ; vol. iii.

New York : G. P. Putnam's sons, 1877.

Description : [1 l.] pl., 97-100 p. ; ill.: 1 phot. ; 22.5 cm.

Photograph : mounted albumen of clinical subject.

Subject : Skin — Pemphigus ; Cazenave's disease.

Notes :


Author caption: BY S. SHERWELL, M. D., Clinical Professor of Dermatology in the Long Island Hospital Medical College; Surgeon to the Skin and Throat Department of the Brooklyn Eye and Ear Hospital.
Sherwell became the first professor of dermatology at the Long Island Medical College.
Twice president of the New York Dermatological Society.
Follow-up reports published in 1878 and 1889, vide infra.
Reference: Pierre Louis Alphée Cazenave, 1795-1877.
Index Medicus: 11006461750.
---
Some of the general appearances of the eruption are well exhibited in the accompanying photograph. — Page 100.
• • •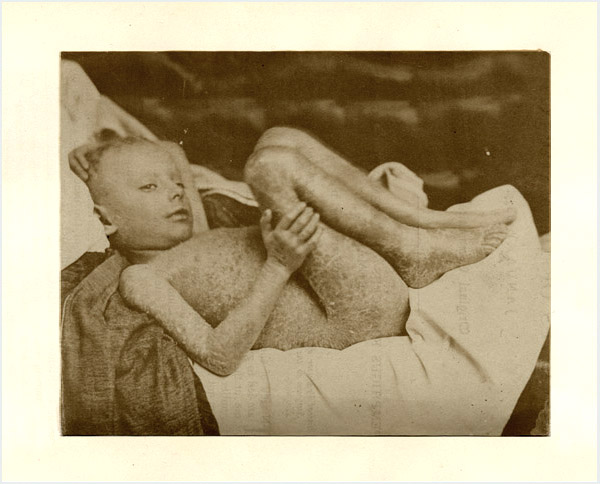 Uncommon skin disorder, especially when found in a child, is represented by a photograph of the 7 year-old girl, Mary Richt, whose initial attack of pemphigus foliaceus occurred, beginning September 1, 1876 and ending the following March. Sherwell presented his patient to a full meeting of the New York Dermatological Society that November at which time his diagnosis of pemphigus was unanimously confirmed. Mary suffered a relapse in April 1878 which lasted until the following June. Sherwell reported the relapse in a paper titled, The Use of Linseed and Linseed Oil as Therapeutic Agents in Diseases of the Skin, published in the Archives. A second relapse occurred, beginning March 9, 1889, when the patient was twenty years old and again was reported by Sherwell in a paper titled, Relapse of pemphigus foliaceus (Cazenave) after eleven years; recovery, published in the Journal of Cutaneous and Genito-urinary Diseases (New York: D. Appleton ; vol. vii, pp. 453-455). The awkward pose of the patient suggests suffering, but she was instructed to contract her legs so that the photographer could compose her entire body in the picture and yet be near enough to capture details of the lesions.
---

©All rights reserved.