Du délire chronique (suite).
---
Corporate authors ;
Séglas, Jules, 1856-1939.
Journal : Annales médico psychologiques, vols. 7, 8.

Paris : G. Masson, 1887-1888.

Description : v. 7, 320-342 p., 453-463 p. ; v. 8, [1 l.] pl., 109-111 ; ill.: 2 photos. ; 24 cm.

Photographs : Two cameo portraits on one leaf representating skull type in a female psychotic.

Subject : Skull — Devolution ; Psychosis.

Notes :


Excerpt from a peer review for a paper by Paul Garnier (1848–1905).
Reference: Garnier (1886), Du délire chronique ou psychose systématique progressive. Journal: La France méd.
Garnier was a student of Valentin Magnan (1835-1916).
Séglas became president of Societe Medico-Psychologique in 1908.
Reprint: Séglas (1888), Du délire chronique. Journal: L'Encéphale, pp. 323-337, pp. 591-597.
Reprint in part: Séglas (1888), Du délire chronique. Journal: Archives de neurologie, vol. xvi., pp. 81-85.
Index Medicus: 20801001550 (Garnier paper & refs.).
---
(1) M. Séglas a présenté deux photographies de la malade D...; sur l'une, la tète est fortement fléchie, l'occiput très relevé, si bien que l'axe antéro-postérieur se trouve presque vertical. Dans cette position forcée d'une tête dolichocéphale, à front fuyant, toute la région postérieure devient saillante. Cette saillie, résultat d'un artifice, pourrait en imposer à ceux qui ne sont pas familiarisés avec les examens anthropométriques, mais un pou de réflexion suffit à faire reconnaître que ce n'est point là la tête en pain de sucre, la tête acrocéphale dans laquelle, on le sait, le bregma soulevé devient saillant en entraînant le front vers la verticale. Du reste, sur la seconde photographie, dans laquelle la tête est laissée libre, dans sa position naturelle, on s'assure aisément qu'il n'y a pas d'acrocéphalie. — La conformation de la tête de M"e D. . . (aplatissement frontal et dolichocéphalie) n'est pas un type rare en France et les anthropologistes pensent devoir l'attribuer en général à l'habitude que les matrones ont, dans certains pays, de serrer la tête des jeunes enfants pour assujettir la coiffure. — Magnan (vol. 7, p. 445).
• • •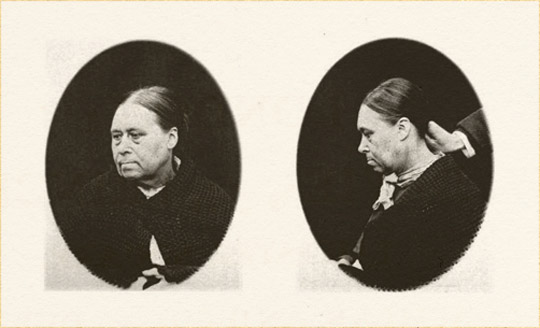 The Séglas photographs and case report were a contribution to a meandering discussion instigated by Dr. Paul Garnier's paper titled, Du délire chronique ou psychose systématique progressive, an attempt to bring some definition to the spectrum of psychotic disorders. Garnier was a student of Magnan, Séglas was a student of Charcot and there was friction between Séglas and Magnan who also contributed to the discussion by attacking Séglas. Specifically, Magnan disputed Séglas's example of degeneration in the skull of a 49 year-old laundress suffering from paranoid ideation. Both men used the cephalic index of anatomist and anthropologist Anders Adolf Retzius who classified two ancestral skull shapes: dolichocephalic (long headed), or brachycephalic (broad headed).
---

©All rights reserved.