Beenregeneratie na resectio humeri /
---
Schoemaker, Antonie Hendrik, 1834-1885.
Amsterdam : F. Van Rossen, 1877.

Journal : Nederlandsch Tijdschrift voor Geneeskunde ; Vol 13, Part 1.

Description : [521]-526 p., [1] l. ; ill., 1 litho., 1 photo. ; 24.5 cm.

Photograph : heliogravure, mounted with a lithograph.

Photographer : Amand Durand, 1831–1905.

Subject : Humerus — Regeneration.

Notes :


Offprint also published (1877).
Includes commentary from Doctors Volkman, Esmarch, Hueter, & Langenback.
Caption: Amand Lith. & Phot.
Read before the 5th congress of the Deutschen Gesellschaft für Chirurgie.
Index Medicus: 11206981270.
---
Hierdoor is bet geval, dat op zich zelf reeds der vermelding waardig is, nog van meer belang voor de heelkundige wetenschap. Door er hier eene teekening en photo van den patiënt bij te voegen, zal het, naar ik meen, voor de lezers van het Journal ook duidelijker worden. (page 521).
No. 2. Photographie van den vroegeren patiënt, ruim een half jaar na de operatie. Men ziet dadelijk, dat beide armen even lang zijn. De schouder is eenigzins hoekig. Het bovenste gedeelte van den opperarm eenigzins atrophisch. Het onderste gedeelte is nog eenigzins verdikt, als overblijfsel der vroegere onsteking. In zijne regterhand houdt hij het beenstuk, dat uit den linker opperarm veggenomen is. (page 526).
No. 2. Photograph of the resection patient, about one half year after the operation. It is clearly evident that both arms are of an even length. The shoulder is distinctly gaunt. The top portion of the upper arm is distinctly atrophic. The lower portion however is clearly thickened, conveyed as a vestige of the resection. In his left hand he holds the piece of bone which was removed from his upper right arm.
• • •
Resection was made along the epiphyseal line and what remained of the head of the humerus was left in its capsule.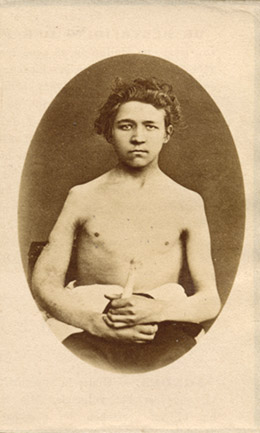 ---

©All rights reserved.