On arrested cerebral development, with special reference to its cortical pathology.
---
Sachs, Bernhard Barney, 1858-1944.
Journal : Journal of Nervous and Mental Disease, vol. xiv.

New York : J. H. Vail & Co. ;
London : H. K. Lewis ;
Paris : Gustave Masson, 1887.

Description : [1 l.] pl., 541-553 p. ; ill.: 1 photo., 2 pl. engr. ; 24 cm.

Photographs : 1 photograph (process unverified).

Photographer : O. G. Mason.

Subject : Brain — Congenital cerebral lipoidosis ; Amaurotic idiocy ; Tay-Sachs disease.

Notes :


Author caption: BY B. SACHS, M.D., NEW YORK.
Sachs was the editor of the journal.
Read before the American Neurological Association, July, 1887.
Reprint: New York, 1887.
Eponym: Sachs disease — Tay-Sachs disease.
Revised: Sachs (1892) A further contribution to the pathology of arrested cerebral development (amaurotic family idiocy). New York: J. Nerv. & Ment. Dis., v. xix.; pp. 603-607.
Revised: Sachs (1896) A family form of idiocy, generally fatal, associated with early blindness (amaurotic family idiocy). New York: J. Nerv. & Ment. Dis., v. xxi.; pp. 475-479.
Other studies titled as Amaurotic family idiocy followed in 1910 and 1929.
Cordasco 80-5489.
GM 4705.
Index Medicus: 20206551460, 11204271030 (reprint), 21701481020.
---
EXAMINATION OF BRAIN.

The brain was immersed at once into Müller's fluid, and as soon as hardened the brain surfaces were photographed. [footnote 1].

[footnote 1] I am indebted to Mr. O. G. Mason for the original photographs, but one of which is reproduced in this article ; all four photographs were exhibited at the meeting of the Association. — page 546
• • •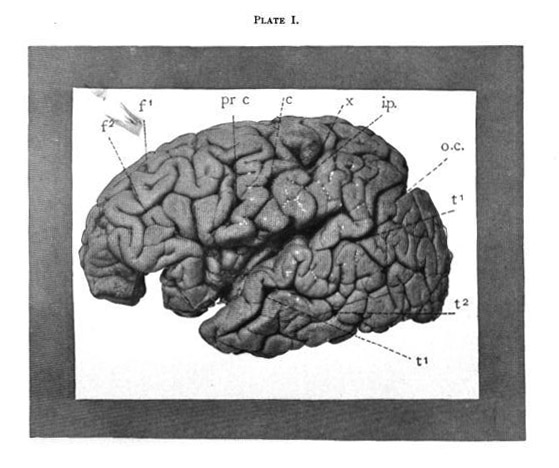 ---

©All rights reserved.