Plastic operations for loss of nose, lower eyelids. etc.
---
Sabine, Thomas Taunton, 184?-1888.
Journal : Illustrated Medicine and Surgery.

New York : E.B. Treat, Vol. 1., 1882-1883.

Description : [1] l., 37-40 p. ; ill., 1 leaf of plates ; 30.5 cm.

Photographs : 4 artotypes on 1 leaf.

Photographer : O. G. Mason (attributed).

Subject : Rhinoplasty — Nose Implant.

Notes :


Professor of Anatomy, College of Physicians and Surgeons.
Second edition printing, 1892.
Caption: Artotype, E. Bierstadt N. Y.
Index Medicus: 10910011260.
---
The first surgical reconstruction of the nose using a denuded finger was attempted by James Hardie in 18751, however the implant was unsupported and finally retreated into the nasal cavity. Sabine's procedure using a single phalanx was brilliantly executed and succeeded in spite of the lupoid substrate he was building on. At one point the patient became cyanotic and required artificial respiration. The operations took place at Bellevue and Sabine was assisted by his colleague Lewis Sayre for the resection.
• • •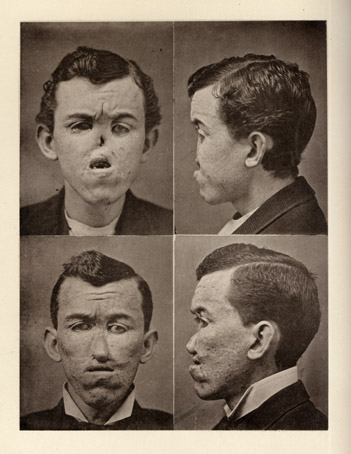 1 Hardie, James, Brit. Med. Journal, 1875, ii, 393.
---

©All rights reserved.