A case of nævoid elephantiasis.
---
Ricketts, Benjamin Merrill, 1858-1926.
Journal : Journal of cutaneous and genito-urinary diseases ; vol. 7.

New York : D. Appleton and company, 1889.

Description : 140-142 p. ; ill.: 1 phot. ; 26 cm.

Photograph : 1 photoengraving in-text (unverified).

Subject : Skin — Primary lymphedema ; Naevoid.

Notes :


Author caption: BY B. MERRILL RICKETTS M. D., Professor of Dermatology and Syphilography at Cincinnati Polyclinic, Lecturer on Plastic Surgery at Miami Medical College, and Visiting Dermatologist to the German Protestant Hospital.
Medical degree, Miami Medical College, Cincinnati, 1881.
Elected, chair of minor surgery, Miami Medical College, 1888.
Contributing Founder, Cincinnati Polyclinic, 1888.
Professor of dermatology and syphilography, Cincinnati Polyclinic.
Index Medicus: 20408421790.
---
While attending the International Medical Congress at Washington, D. C., I had the pleasure of showing the photograph to Unna, of Hamburg ; Justus Andeer, of Munich; Thin, of London, and many others who have great clinical advantages, but none had ever seen a case where the disease had appeared in a similar position.—Page 142.
• • •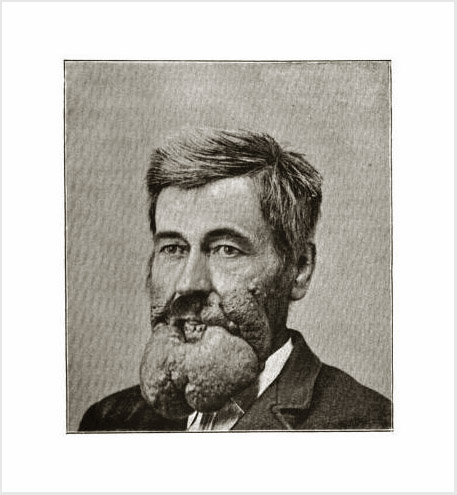 Rickett's subject was a 42 year-old farmer with a primary lymphedema that began in infancy and affected the entire lower portions of his face. If he had brought his photograph to France, they might have directed his attention to a paper by Montmeja published in 1869 and titled, Nœvus vasculaire (Vide intra: »»).
---

©All rights reserved.