Cases of plastic surgery.
Read before the Boston Society for Medical Observation.
---
Porter, Charles B., M.D., 1878-1901.
The Boston Medical and Surgical Journal.

Warren, J. Collins., M.D., ed. & Mason, A. L., M.D., asst. ed.

Boston: Houghton, Osgood and Company, 1878.

volume XCVIII., no. 14 (April 4), pp. 423-427.

12 photographs (heliotypes) on 3 separate leaves.

Subject: plastic surgery.

24cm.
---
Born into a distinguished Vermont medical family, Dr. Porter ascended in his life to teach surgery at Harvard.
The four cases he presents here are all burn victims he successfully treated with the art of plastic surgery. Three of the cases are illustrated with sets of before and after photographs, a fourth case of a 29 year old male is not illustrated.
The following images are linked to enlargements: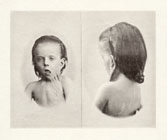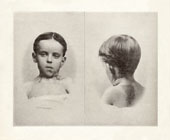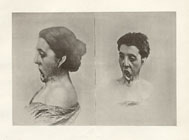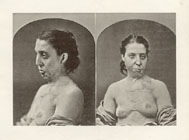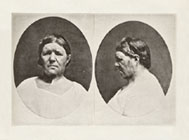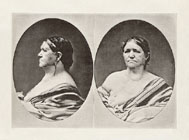 ---

©All rights reserved.