Das organisierte Contagium der Schafpocken und die Mitigation desselben nach Toussaint's Manier.
---
Plaut, Hugo Carl, 1858-1928.
Journal : Vorträge für Theirarzte ; vol. 5, no. 8.

Leipzig : Dege'sche Verlagshandlung, 1882.

Description : 266-297 p., [5 l.] pl. ; ill.: 5 phot., 3 engr., tab. ; 23.5 cm.

Photograph : 5 autotype reproductions of photomicrographs.

Photographer : Otto Wigand of Zeitz.

Subject : Skin — Contagious pustular dermatitis ; Sheep pox.

Notes :


Author caption: von Dr. Hugo Carl Plaut. (Dissertation).
First studies were in animal science.
Medical studies, Leipzig, 1885-1888.
Entered private practice in Hamburg, 1897.
Established a laboratory, Hamburg, 1897.
Conducted Salvarsan research for Paul Ehrlich.
Director, Pilz Research Institute, Eppendorfer Hospital, Hamburg, 1913.
Cofounder and professor, Hamburg University, 1919.
Plaut's daughter, Rahel Plaut (1894-1993), first female graduate of Hamburg Medical School.
Photo captions: each autotype is numbered (Fig. 1-5) followed by description.
Reprint of dissertation:
Publisher: Metzger & Wittig (Leipzig, 1882).
Dissertation has 9 heliotype reproductions of "Photogrammes"—mounted on printed boards.
Photo captions: Phot. Druck von A. Naumann & Schroeder, Leipzig.
Offprint also issued in 1883.
Eponym: Plaut's angina, Plaut-Vincent disease—Trench mouth (GM 3308.1).
Index Medicus: 11103581260 (offprint), 11209741600 (offprint).
---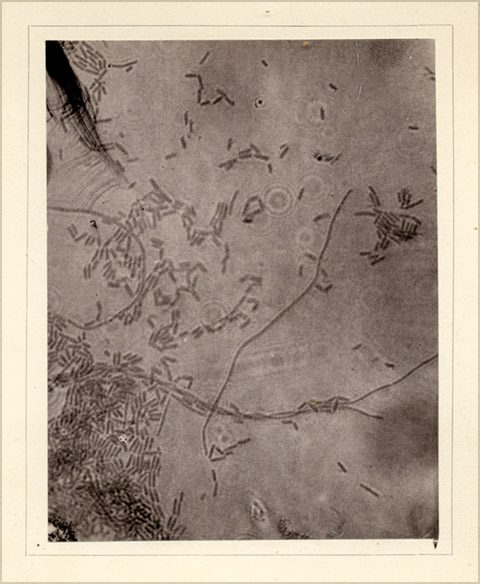 A not insignificant contribution to the etiology of the poxviridae family of viruses, and one that deserves greater recognition. Plaut followed the methods of Jean-Joseph-Henri Toussaint (1847-1890) to produce successful cultures and an attenuated vaccine that was effective against sheep pox. He conducted the research for this graduate thesis at the laboratory of his mentor, Friedrich Anton Zürn (1835-1900), who was professor emeritus of veterinarian sciences at Leipzig University. The autotypes are poor reproductions of the beautiful Otto Wigand photomicrographs that illustrate Plaut's dissertation. Copies are very scarce.
---

©All rights reserved.