Tumour of the hand.
---
Patterson, Alexander, 1835-1909.
Journal : Glasgow Medical Journal ; vol. x.

Glasgow : Dunn & Wright, 1878.

Description : 487-489 p., [1 l. pl.] ; ill.: 1 phot. ; 22 cm.

Photograph : mounted albumen.

Subject : Hand — Tumors.

Notes :


Author caption: By Alex. Patterson, M.D., Surgeon and Lecturer on Clinical Surgery, in Glasgow Western Infirmary.
Index Medicus: na.
---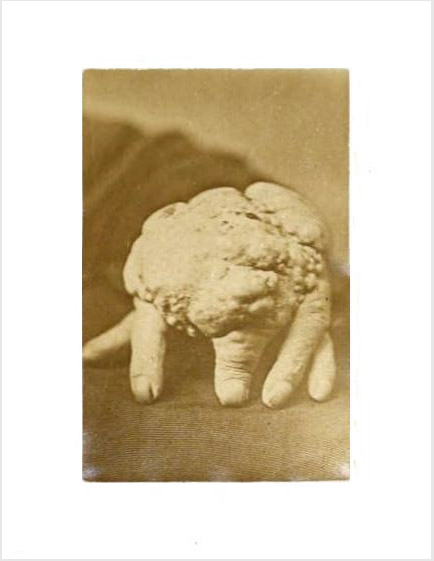 The left hand of a 56 year-old wood joiner is displayed — a massive lobulated tumor covers the entire dorsal aspect and gives it the appearance of a xanthid crab. Patterson amputated the hand and a portion of the forearm. His colleague and editor of the GMJ, Dr. Joseph Coats (1846-1899), dissected the tumor and classified it as a "fasciculated sarcoma."
---

©All rights reserved.